Image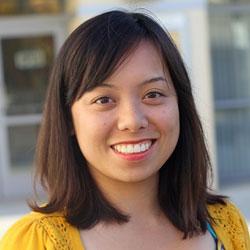 Malou Amparo
Assistant Director of Resident Life
University of California, San Diego
2021 Regional Treasurer Cohort Coach
Maria Lourdes (Malou) Amparo Robas is the assistant director of resident life at University of California – San Diego, is the 2021 regional treasurer cohort coach.
Malou served on the Region XII team as treasurer from 2017-2019. She previously served as the Region XII conference volunteer coordinator in 2018 and on the annual conference local arrangements team in 2015. Malou has extensive experience with NAFSA's financial systems and procedures. During her three-year term as the Region XII treasurer, Malou guided and supported the Region XII team and through multiple system and procedural transitions. She worked closely with the chair stream and conference chairs to collect and organize financial records from previous conferences and to provide budget recommendations based on her research and future conference projections.
Outside of NAFSA, Malou has volunteered as a film programmer with the Pacific Arts Movement in San Diego, California since 2013. In that role, she reviews and selects over 200 films to develop film programs for the annual San Diego Asian Film Festival. She also writes film synopses, introduces films, and conducts Q&As with filmmakers and casts.