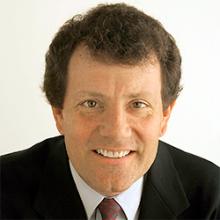 Nicholas Kristof
Tuesday, May 26
How good do you really have to be, to be christened the reporter's reporter…by other reporters? You have to be Nicholas Kristof – good. After working in France, Kristof began backpacking in Africa and Asia, writing articles to cover his expenses. He's lived on four continents, reported on six, and traveled to more than 150 countries. During his travels, he has caught malaria, experienced wars, confronted warlords, encountered an Indonesian mob carrying heads on pikes, and survived an African airplane crash. Kristof not only managed to survive and press on, he also won two Pulitzers in the process – advocating human rights and giving a voice, to the voiceless.
In 1990 Kristof and his wife, Sheryl WuDunn, then also a New York Times journalist, became the first husband-wife team to win a Pulitzer Prize for journalism for their coverage of China's Tiananmen Square democracy movement. Kristof won his second Pulitzer in 2006 for what the judges called "his graphic, deeply reported columns that, at personal risk, focused attention on genocide in Darfur and that gave voice to the voiceless in other parts of the world." Kristof and WuDunn have written four best-selling books: Half the Sky, A Path Appears, China Wakes, and Thunder from the East. Oprah Winfrey devoted two full programs to their work, and they have been on countless other television programs. Half the Sky and A Path Appears each inspired a prime-time PBS documentary series. Archbishop Desmond Tutu dubbed Kristof as "an honorary African" for his reporting on conflicts there. President Bill Clinton said, "There is no one in journalism, anywhere in the United States at least, who has done anything like the work he has done to figure out how poor people are actually living around the world, and what their potential is." In their new book, Tightrope: Americans Reaching for Hope (2020), they chronicle the different struggles facing working-class America. This story is told, in part, by following the lives of some of the children whom Kristof grew up with, and why one quarter died prematurely in adulthood while others had journeys of resurgence involving recovery and commitment to helping those less fortunate.
After joining The New York Times in 1984, Kristof served as a correspondent in Los Angeles, Hong Kong, Beijing, and Tokyo. He has covered presidential politics, interviewed everyone from President Obama to Iranian President Ahmadinejad, and was the first blogger on The New York Times website. A documentary about him, Reporter, executive-produced by Ben Affleck, aired on HBO, and he has millions of followers on Twitter, Facebook and Google+. Kristof has won innumerable awards including the Dayton Literary Peace Prize, the Anne Frank Award and the Fred Cuny Award for Prevention of Armed Conflict. He also serves on the board of Harvard University and the Association of American Rhodes Scholars.
Jeffrey Toobin of CNN, his Harvard classmate, said of Kristof: "I'm not surprised to see him emerge as the moral conscience of our generation of journalists. I am surprised to see him as the Indiana Jones of our generation of journalists." George Clooney, said himself, that he became engaged in Sudan after reading Kristof columns, and traveled with Kristof to the fringes of Darfur – rooming with him on the floor of a cheap hotel.
As a speaker, Nicholas Kristof always keeps audiences on the edge of their seats with his moving storytelling and incomparable insights into the events that shape our world. Audiences are captivated by his global adventures and leave inspired to drive change, take on challenges and make a difference. As one lecture series attested, "You could hear a pin drop in the auditorium because he was spellbinding."