Image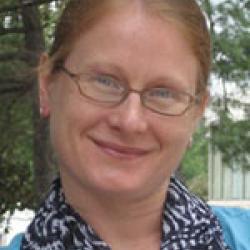 Polina Vinogradova, PhD
Director, TESOL Program, Department of World Languages and Cultures
American University
Polina Vinogradova is a faculty member and director of the TESOL Program at American University in Washington, D.C. where she works with graduate TESOL students and teaches courses in second language teaching methods. In her research, she explores ways to introduce participatory approaches to English as an additional language education and language teacher development. In particular, she studies pedagogical uses of digital stories and the role of a pedagogy of multiliteracies in student and teacher empowerment. Vinogradova holds a PhD in language, literacy and culture from the University of Maryland, Baltimore County (UMBC) and has MA degrees in TESOL from the University of Northern Iowa and in intercultural communication from UMBC.
Vinogradova's chapter "Teaching with Digital Stories for Student Empowerment and Engagement" (in Carrier M., Damerow R. M., and Bailey K. M., eds. 2017. Digital Language Learning and Teaching: Research, Theory, and Practice. Routledge & TIRF) presents a study that explored potential for digital stories to facilitate gradual introduction of overt instruction through multimodal scaffolded collaborative activities in an English as a second language class. Here, overt instruction refers to systematic and explicit instructional interventions that build on the learners' strengths and backgrounds and create new knowledge through collaborative efforts between the students and the teacher. The findings illustrate that with overt instruction and through activities involved in digital story production, English language learners gained understanding of multimodal meaning making and engaged in meaningful communicative practices in English. They also developed a positive view of themselves as English language users and found ways to support each other thus developing an engaging and creative multicultural classroom environment.
Polina Vinogradova received the 2017 Innovative Research in International Education Award.