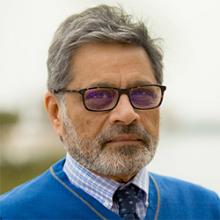 Ravi Shankar
Assistant Vice Provost & Director of the International Services Office
University of Rochester
Ravi Shankar is the NAFSA President and Chair of the Board of Directors.
Shankar has been in the field of international education for more than 20 years and has worked in various types of institutions, ranging from small professional institutions and community college to a major research institution. He was recently the director of the Office of International Student and Scholar Services (OISS) at Northwestern University in Evanston, Illinois. His NAFSA member-leader experience began in Region V as a community college representative. He has also served as Knowledge Community for International Student and Scholar Services Representative; Regulatory Representative; Region V Chair; Membership Committee; Chair of the NAFSA Task Force on Online Case Management Tool (currently called IssueNet); NAFSA's Diversity Statement Task Force; member-at-large on the Leadership Development Committee and chair of the Leadership Development Committee.
His area of specialization includes intercultural communication, program development, and nonimmigrant regulation.