Image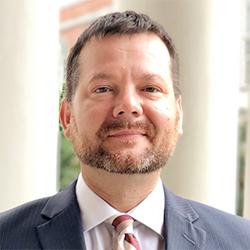 Ryan Griffin
University of Missouri - Columbia
2021 Regional Affairs Committee Chair
Ryan Griffin is the director of the Office of International Admissions at the University of Missouri-Columbia and the 2021 Regional Affairs Committee (RAC) chair.
Ryan got his start at NAFSA by serving as the chair of the conference connection committee on the local arrangements team for the 2013 NAFSA Annual Conference and Expo in St. Louis, Missouri. He served on the Region IV team as the Missouri state representative in 2014 and 2015 and was Region IV chair in 2017. Ryan also participated in the NAFSA Academy from 2014-2015, planned the annual Missouri International Educators Meeting in 2014 and 2015, and attended every NAFSA Annual Conference from 2013-2018.
Outside of NAFSA, Ryan has also been involved with the Council of International Schools, International ACAC, and Education USA by presenting at conferences and helping with events.
Ryan brings a wealth of knowledge and experience to the RAC chair role and is looking forward to serving as RAC chair in 2021 to, in his own words, "give back to a field and an organization that have been incredibly supportive of me."