Image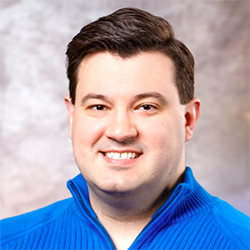 Todd Goen
Instructor & Director of Communication Competence Abroad
Christopher Newport University
2022 Academy Class 19 Chair-Designate; Academy Coach, Region VIII
Goen is a faculty member in the Department of Communication at Christopher Newport University, where he also serves the department as Internship Director and the Faculty Director of the Cultural Communication Abroad program in Benelux. Prior to his arrival at Christopher Newport, he held faculty positions at Indiana University-Purdue University Fort Wayne (now Purdue Fort Wayne) and Clemson University.
Goen primarily teaches courses in interpersonal and family communication, nonverbal behavior, intercultural communication, and quantitative research methods. As part of his teaching portfolio, he has led seven month-long study abroad programs focused on building intercultural communication competence for over 100 students. His eighth program will take students to Brussels in the summer of 2020. Additionally, he is the academic advisor for incoming international students and for the past three years, chaired the International Studies Advisory Committee (ISAC), which has oversight for international activities on campus.
Goen's research interests focus on young adults' communication behaviors within the context of familial interactions and education abroad with special attention to nonverbal behaviors. He is an Honors College Graduate with a BA in Computer Science, French, and Vocational Ministry from Harding University, where he participated in a short-term international experience in Geneva, Switzerland. He holds a MA in Communication from the University of Arkansas with an emphasis interpersonal communication, and completed doctoral coursework at the University of Georgia with emphases in relational communication, communication theory, and quantitative research methods.
Goen was a member of NAFSA Academy Class 15. He is an IDI Qualified Administrator and working toward his Professional Certification in Education Abroad from the Forum on Education Abroad. He is currently a member of NAFSA's Trainer Corps, the Region VIII Academy Coach and is excited to serve as the Chair-Designate of Academy Class 19 in 2022.