Image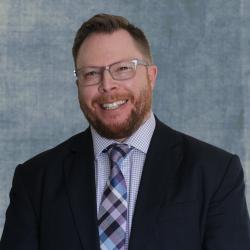 Todd Karr
Director of Education Abroad
The University of New Mexico
Academy Coach, Region II
Todd currently serves as the Director of Education Abroad at The University of New Mexico. Prior to UNM, Todd was the Assistant Director of University of Nebraska Online. He has served in various international education roles at Iowa State University, North Dakota State University, Indiana University, and Arcadia University's College of Global Studies. Throughout his career in education abroad, Todd has focused on program development, institutional exchange partnerships, managing site-specific programs, student recruitment and advising, and facilitating faculty advising and training programs. He also has experience working ISS and international student recruitment and admissions.
Todd is currently pursuing his Ph.D. in Higher Education from the University of Nebraska-Lincoln, focusing on how rural students reconcile their post-study abroad self with their home communities.
As a student, Todd was an exchange student at Sapporo University in Japan; participated in the Salzburg Seminar short-term program in Austria; and was a graduate intern at the University of Otago in New Zealand. As a professional, Todd has participated in numerous education abroad site visits in Europe, Asia, and Australia/New Zealand. Todd also has experience recruiting students in Asia to study in the U.S.