Image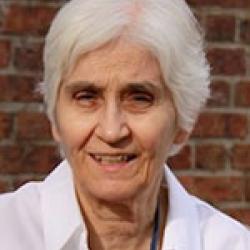 Vera Wagenfür
The University of Delaware's OISS staff considers Vera as an irreplaceable part of their family, offered this praise: "Vera's demonstrated passion for diversity and inclusion helped lay the foundation for us to be selected as the recipient of the prestigious Senator Paul Simon Award for Campus Internationalization."
Vera has a saying: "I was born with my family's disease, which is the disease of helping people!" She has been an integral part of the University of Delaware's Office for International Students and Scholars for over 30 years. She brings hospitality, compassion, and resilience to her beloved international population!
Vera has tirelessly served international students and scholars and has connected thousands of them with local U.S. residents. She is a vital link between the campus and community who diligently promotes cultural awareness and mutual understanding between these two diverse groups. She not only serves international visitors to the U.S. but also "goes above and beyond" to assist students studying abroad. She brings so much energy to sharing her wealth of knowledge while at the same time keeping a pulse on the needs of international students.
Her affinity, concern and provision for international students, her wealth of experience and sensitivity in working with the international community, her recruitment of scores of American volunteers, as well as her dedication to cultural exchange with the local community make her worthy of receiving the 2015 Hugh M. Jenkins Award for Excellence in Community Programming!