Fiona Grugan, an international student advisor at the University of Arizona and a NAFSA Academy graduate, was presented with the 2017 Advocate of the Year Award by NAFSA President and Chair of the Board Elaine Meyer-Lee on March 14, 2017, in Washington, D.C.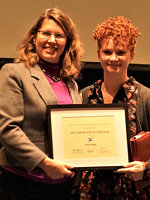 The Advocate of the Year award recognizes a NAFSA member who exhibits excellence in international education advocacy, inspiring others to make a difference by engaging with elected officials, and promoting policies that support creating a more welcoming and globally engaged United States.
This award honors Fiona's remarkable advocacy efforts, which include organizing in-district meetings with her congressional representative's staff, initiating multiple letter-writing campaigns in her community, and spearheading her own local advocacy day and town hall events in Phoenix to advance NAFSA public policy priorities. Her individual advocacy—focused on high-skilled immigration reform, normalized relations with Cuba, protecting and supporting immigrants and refugees, and other vital international education and immigration issues—combined with her efforts to encourage and empower others to take action have made a meaningful difference on her campus and in her community.
"While this award is a huge honor and encouragement for me, I'm just an everyday advocate, and this is something that you can be too," said Grugan. "To be an everyday advocate beyond our meetings on Capitol Hill this year, you need to be comfortable calling your two U.S. Senators and U.S. Representative about issues that matter to you. In an era of intense political scrutiny, it may seem overwhelming, but you're already an expert in the importance of international education. Instead of allowing ourselves to be overwhelmed, let's focus on our expertise."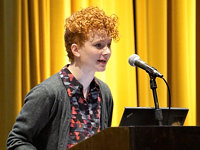 Confirmed by those who know her personally and professionally, Fiona's main goal is comprehensive civic engagement. She spreads her passion for advocacy everywhere she goes and instills in her peers a sense of duty to speak out as individuals as well as a community, which is part of what makes her an exemplary NAFSA member and advocate.