On March 19, 2018, Renée Bishai of The Ohio State University was presented with the 2018 Advocate of the Year Award by NAFSA President and Chair of the Board Elaine Meyer-Lee at NAFSA's annual Advocacy Day in Washington, D.C.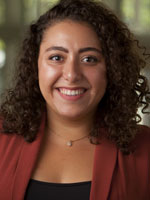 The Advocate of the Year Award recognizes a NAFSA member who exhibits excellence in international education advocacy, inspiring others to make a difference by engaging with elected officials and promoting policies that support creating a more welcoming and globally engaged United States.
Advancing international education as a program coordinator for global engagement at The Ohio State University, Renée works on a team dedicated to fostering community between international and domestic students on campus and supporting international students through orientation and beyond. Her introduction to NAFSA was at Advocacy Day 2013. She received an Advocacy Day travel grant from Region VI in 2015 and has served as the region's advocacy coordinator since 2016.
Her advocacy efforts have exemplified the idea that advocacy is a marathon, not a sprint. Through consistent outreach to her members of Congress and local government, Renée has ensured that international education issues remain a priority for her representatives. Her initiative to share an editorial in her local paper with the staff for Representative Joyce Beatty (D-OH-03) helped persuade Representative Beatty to cosponsor a bill to end the embargo and travel ban to Cuba.
Renée also maintains constant communication with NAFSA staff and has worked to highlight the importance of member advocacy at the state, regional, and national levels of NAFSA. Since presenting to members of the NAFSA Executive Committee and co-authoring a letter to the regional chair streams about the benefits of having designated advocacy leaders in regional leadership, two-thirds of the regions now have active advocacy coordinators.
"One of the best things about NAFSA and particularly the advocacy community is how welcoming it is to young professionals," stated Renée, addressing the Advocacy Day attendees in Washington, D.C. "If you're a young professional or new to advocacy and wonder where you belong, know that you belong right here. Your voice matters, and others need to hear it. Everyone has something to offer, so if you have a voice and a passion for this community, join us in speaking out for international education. We need you!"
True to the nature of advocacy, Renée seeks to educate and empower her regional team and fellow educators to better engage with policymakers in person, via email, and on the phone using tried and true methods she uses herself, including strategically and consistently using social media to make her voice heard. Her efforts not only embody what it means to be an everyday advocate but also inspires others to do the same.