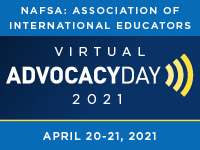 March 18-19, 2019
Washington, D.C.
All events take place at the host hotel, The Mayflower Hotel (1127 Connecticut Ave. N.W., Washington, D.C.), unless otherwise specified.
Tentative Event Program
Monday, March 18
10:00 a.m.-2:00 p.m.
Registration
11:00 a.m.-12:15 p.m.

Newcomers Briefing

All first-time Advocacy Day participants are required to attend this session, and past participants are welcome.

12:15 p.m.-1:30 p.m.

Lunch for all Attendees

1:30 p.m.-5:30 p.m.

Issue Briefing and Strategizing Session

This session is required for all participants, as meeting packets and schedules will only be available at this briefing. Participants will be seated by state affiliation.

5:30 p.m.-7:30 p.m.

Networking Reception 

Tuesday, March 19
7:00 a.m.-8:30 a.m.

Breakfast and Speakers

10:00 a.m.-3:30 p.m.

Congressional Meetings and Lunch on Capitol Hill

We aim for each attendee to have three meetings: one meeting with your Representative and/or his and or/her staff, and meetings with the offices of both of your Senators.

4:00 p.m.-5:00 p.m.

Debrief and Planning for Year-Round Advocacy

This session is optional for attendees.