Most careers in international education require at least a B.A./B.S., although a graduate degree is increasingly preferred. While many professionals in the field have education-related degrees, it is not uncommon to find people with degrees in liberal arts, psychology, public affairs, a foreign language, or international relations.
The following article from International Educator magazine discusses the benefits of attaining a master's degree in international education, the types of degrees offered, and some well-known graduate programs in the field.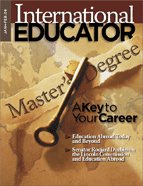 A Key to Your Career?
By Alan Dessoff
Master's degrees in international education are not new—but there are more programs today to choose from and having one is becoming more important to opening the door to the field.