The NAFSA International Education Professional Competencies™ is the most comprehensive listing of the necessary competencies for success in the field of international education.
Created by a group of NAFSA member leaders and reviewed by numerous international education experts, the NAFSA International Education Professional Competencies™ forms the basic building blocks of the international education profession. This inventory is intended to define the professional knowledge, skills, and abilities expected of international education professionals working in the United States, regardless of their area of specialization or role within the field. From adviser to manager to policy maker, the International Education Professional Competencies offer everyone working in international education a direction for professional success.
New Resource
NAFSA is pleased to introduce Career Print, an online self-assessment platform grounded in NAFSA's International Education Professional Competencies™ that identifies areas for individual growth and professional development. Career Print brings the International Education Professional Competencies™ into a new, interactive online assessment that allows individuals and teams to calibrate their skills and knowledge. By completing the online assessment, users can identify areas for individual growth and, upon completion of the assessment, are provided a list of professional development opportunities and resources.
Structure of the IE Competencies
The International Education Professional Competencies™ is organized into four key professional practice areas—Comprehensive Internationalization, Education Abroad, International Enrollment Management, and International Student and Scholar Services—as well as cross-cutting competencies, which describe the shared skills and knowledge needed across all international education domains.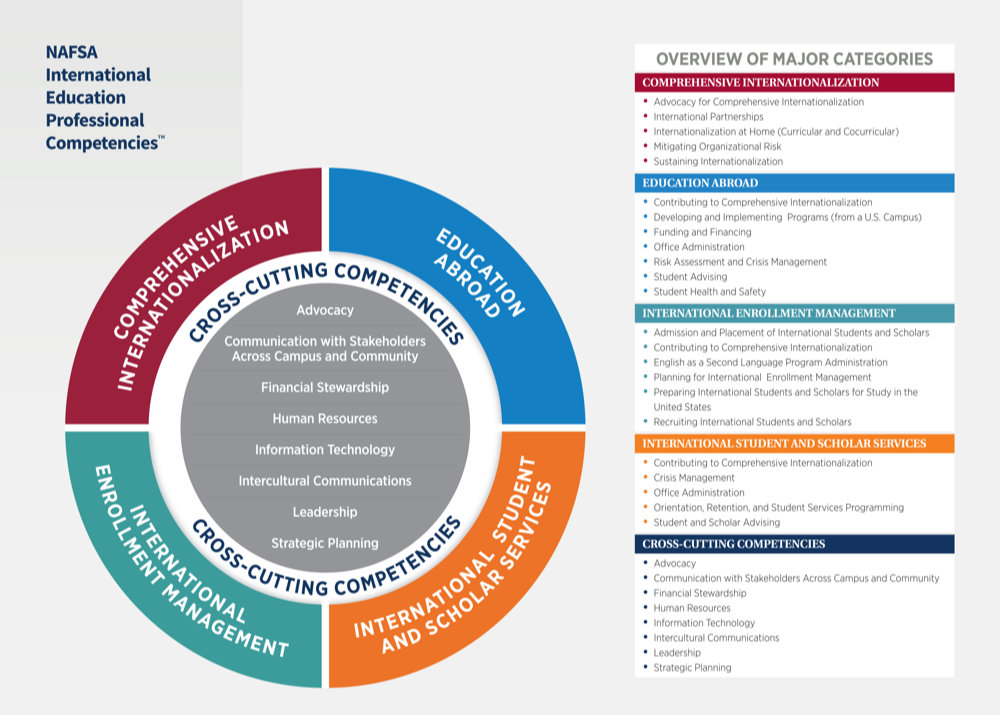 Each competency statement reflects three main professional functions:
Direct Service: Provides service directly to students and scholars engaged in study abroad to and from the United States.
Management: Oversees the operation of a unit related to international education.
Strategy/Policy: Establishes, updates, and approves the policies and strategy for achieving the goals and mission of international education within an institution.
The competency statements are also divided into "Responsibilities" and "Knowledge," with "Responsibilities" referring to the skills required as part of the function or role and "Knowledge" referring to the knowledge needed to accomplish the responsibilities listed in the corresponding category.
Testimonial
"As a senior international officer, I will use these competencies to work with my staff to hone skills and knowledge. This key resource will help me assess the areas I need to build on my team and help staff be strategic about their professional development."
David L. Di Maria, associate provost for international programs,
Montana State University
Get Started
Download your copy of the NAFSA International Education Professional Competencies™ to:
Begin a collaborative conversation among practitioners;
Advance your professional and personal development;
Encourage discussions between international educators and other administrators;
Develop good hiring practices and effective job descriptions;
Help your institution assess readiness;
Advocate for international education priorities;
Create new content that benefits the field.
Download a copy of Hiring Manager Questions: In Alignment with the NAFSA International Education Professional Competencies™.
Use a tool when hiring employees in the areas of education abroad, international enrollment management, and international student and scholar services.
Testimonial
"This resource will surely serve as one of the more indispensable tools of any international education administrator's library. I am certain that it will transform the way we, as international educators, and other university administrators and faculty see the field and the skills necessary for success."
- Stephen M. Ferst, executive director, Center for International Service,
College of Staten Island, City University of New York