Incorporating group and individual learning, as well as structured and unstructured learning opportunities, the Academy balances the learning needs of the individual with the expectations of the field of international education. Stemming from an initial assessment of the nine proficiencies of international education, the Academy for International Education pursues a rigorous curriculum to develop both the knowledge and skills of participating international educators. 
NAFSA understands that each Academy trainee comes to the Academy with a different set of goals and expectations. The Academy allows for individual and flexible learning by encouraging each trainee to set personal and institutional goals to help achieve success throughout the year. Trainees complete three main assignments throughout the year: an individual learning plan, a summer initiative, and a culmination paper.
Academy Events and Curriculum
As a trainee you are expected to take part in all these learning opportunities in order to successfully complete the Academy and your stated Learning Plan objectives.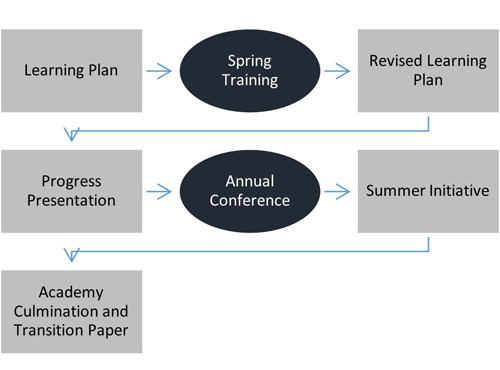 Individual Learning Plan
Individualized learning is fostered through the development of an Academy Learning Plan in which you identify and prioritize your personal and institutional learning goals. You develop the plan prior to Spring Training and revise and adjust it throughout the Academy year.
Spring Training, Atlanta, GA (March 3-6, 2020)
Join us in Atlanta for three and a half days of intensive training. Spring Training provides the foundation for your Academy year by providing sessions featuring: an introduction to the profession of international education as well as the basics of U.S. international admissions, education abroad, international student advising, and advocacy in international education.

You will gain a broad perspective of international education, network with professionals from around the country, meet face-to-face with your coach, and solidify your learning plans.
Annual Conference, St. Louis, MO (May 24-29, 2020)
Academy trainees will receive free registration to NAFSA's annual conference in St. Louis. Trainees also select a complimentary, preconference workshop that supports their individual learning plans, and meet and reconnect with their coaches and fellow trainees at Academy events.
Progress Presentation
At the NAFSA annual conference, trainees reflect on their progress and develop a visual demonstration of that progress. They share their presentation with their cohort as a way to reflect and refocus on their Academy priorities.
Summer Focus
Trainees focus on a single objective they would like to accomplish by the end of the summer. They submit three blog-style posts detailing their selected objective, their midsummer progress report, and their final results from their summer initiative.
Fall Regional Conferences (Dates vary by region)
Academy trainees participate in another workshop of their choosing at the regional conference and also meet with their coach and cohort group. A final recognition ceremony celebrates the trainees' accomplishments.
Culmination and Transition Paper
Prior to receiving their certificate of completion, trainees write a culmination and transition paper to review their learning and progress, capture their progress in qualified statements, and to identify their future goals as they transition out of the Academy.
Cohort Connections
Throughout the year, coach-led trainee cohorts connect in a variety of ways, including virtually through online community spaces, conference calls, and at Academy events. Individual cohorts determine as a peer learning group what works best for them.