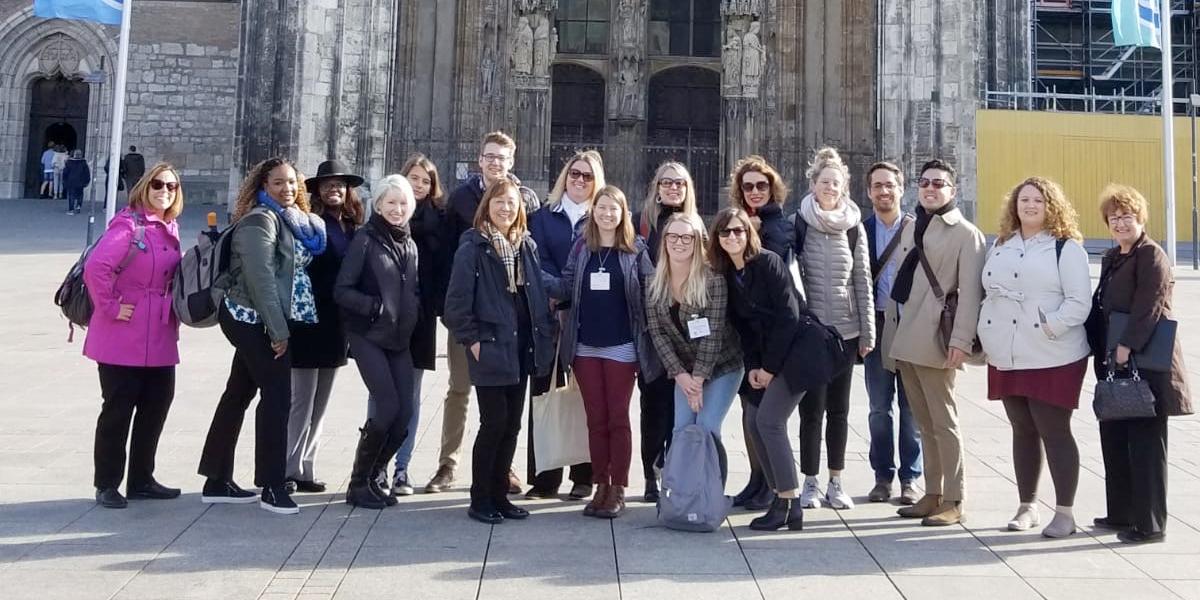 Konstanz, Germany
Sponsored by the Ministry of Science, Research, and Arts Baden-Württemberg, Germany, the seminar is open to NAFSA and American Association of Collegiate Registrars and Admissions Officers (AACRAO) members.
The seminar focuses on the German educational system, German-American academic equivalencies, and student exchange between Germany and the United States. Lectures and discussions are complemented by visits to primary, secondary, and tertiary educational institutions in the state of Baden-Württemberg.
Onsite costs for participating, including accommodations, most meals, and transportation for excursions, are provided by the Ministry. Participants or their institutions are responsible for the cost of transportation to and from Germany.
---
On May 13, 2020, the Baden-Württemberg Ministry of Science, Research and Arts (MWK), in consultation with AACRAO and NAFSA, made the difficult decision to cancel the October 2020 Baden- Württemberg Seminar.
This decision was not made lightly. The MWK, AACRAO, and NAFSA feel that the health and safety of our colleagues is of primary importance, and that to encourage international travel at this time would not be prudent.
Our institutional colleagues who send members on the seminar currently have many new and unique work challenges. Supporting students and faculty, while ensuring the smooth running of their institutions, must take precedence in these trying times.
Thanks to the generosity of the MWK, we look forward to resuming the "BW Seminar" in the Fall of 2021. Keep watching this spot in early 2021 for more information.
---
Who Should Apply
The seminar is designed for study abroad officers, international student advisers, admissions officers, and others with responsibility for postsecondary-level exchanges. Applicants must either be AACRAO or NAFSA members. No more than one application per institution should be submitted.
All applications are submitted in June, via AACRAO. Applications are reviewed by a committee of former AACRAO and NAFSA participants, in collaboration with BW-I staff.
Applications will be accepted in the spring of 2021.
2019 Participants
Megan Baker, Study Abroad Advisor, Carroll University
Shannice Berry, Director of Enrollment Management, Richland Community College
Alyse Butler, Admissions Counselor, University of Illinois at Chicago
Julio Castro, Education Abroad Coordinator, California State University Monterey Bay
Jane Decatur, Executive Director of International Education, Framingham State University
Jacob Edington, Study Abroad & International Exchange Advisor, California State University, Chico
Marisa Gray, Program Manager for Study Abroad, Morgan State University
Katherine Kovar, Assistant Director, Study Abroad, University of Notre Dame
Erin Mason, Associate Registrar, University of Connecticut
Cassy McInnis, Education Abroad Advisor, Georgia Institute of Technology
Richarda (Rikki) Mitsunaga, Director of Student Services, Business and International Programs, UH Manoa - Shidler College of Business
Emily Mraz, Education Abroad Registrar & Director of Academic Services, University of Minnesota, Twin Cities Campus
Melissa Ochal, Associate Director, Center for International Education, College of Charleston
Connie Radke-Kurian, International Undergraduate Admissions Team Leader, Utat State University
Jennifer Thomas, Study Abroad Advisor, Western Carolina University 
Sponsors
Baden-Württemberg Ministry of Science, Research, and Arts
AACRAO: American Association of Collegiate Registrars and Admissions Officers
NAFSA: Association of International Educators 
Questions
Let us know if you have any questions regarding the Baden-Württemberg Seminar.
Testimonial
The Baden-Württemberg Seminar for Administrators in International Education was an invaluable experience that has immediately enhanced my work as an administrator. As an adviser, the experience has helped me to better connect with international exchange students from Germany and better address and serve their academic needs.
I strongly encourage other NAFSA and AACRAO members to apply for this seminar. It was an extremely well-structured and effective way to learn about, and see firsthand, the different types of German higher education options and the history behind them. The seminar also presented an understanding of the educational journey from kindergarten to higher education, which allowed us to gain a more in-depth understanding of the German higher educational system.
I am extremely grateful for this opportunity and the ongoing benefits of the experience.Kaitlin Ritchie, University of North Carolina-Greensboro
- Jesse Lutabingwa from Appalachian State University shared his blog from his travel in Germany on the Baden-Württemberg Seminar in October 2015.