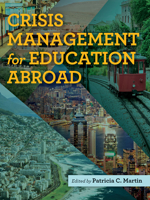 The complexities of the education field require ongoing training on risk management considerations. Whether a crisis affects large groups of traveling students or a single person abroad, Crisis Management for Education Abroad, will help you build core competencies in crisis management and risk assessment, such as collaborate with relevant campus offices: establish informed emergency protocols; develop health and safety materials; and respond to international emergencies.
The checklists included in this publication are designed to assist the reader in developing a response plan for prevalent crises. Download these sample checklists and keep them in a safe, convenient location in preparation for a crisis. For more checklists and detailed analysis of crisis management in education abroad, purchase Crisis Management for Education Abroad today.
To learn more and check out other related resources, visit: www.nafsa.org/eahealthandsafety.
Table of Contents
Dedicated to Joseph L. Brockington (1951-2015)
Introduction by Patricia C. Martin
Part I: Crisis Management in Program Planning
Chapter 1 – Planning and Promoting Safe Programs Abroad
By Joanna Holvey-Bowles
Checklists:
Considerations for Program Development
Safety Instructions for Program Participants
Preparations for Employee Travelers
Chapter 2 – Assessing And Mitigating Education Abroad Risks
By Joseph L. Brockington
Part II: Responding To Crises
Chapter 3 – Crisis Planning
By Stacey Bolton Tsantir and Ines De Romana
Checklist:
Chapter 4 – Responding To Crisis
By Stacey Bolton Tsantir and Ines De Romana
Checklists:
General Response to an Individual Student Crisis
Mental Health Concerns
Serious Injury or Illness
Student Hospitalization
Sexual Misconduct
Abduction
Missing Student
Substance Abuse Problem
Suspected Alcohol Poisoning or Drug Overdose
Illegal or Criminal Behavior or Arrest of a Participant
Large-Scale Crises, Natural Disasters, and Epidemics
Political and Social Unrest and Terrorist Activities
Cancelling Programs and Evacuation
Chapter 5 – When A Student Dies Abroad: Preparing For The Ultimate Tragedy
By Julie Anne Friend
Checklists:
Prior to sending students abroad
Immediate Response after a Death Abroad
In the Days Following a Death Abroad
Part III: Issues Of Liability
Chapter 6 – Education Abroad And The Changing Regulatory Landscape
By Julie Anne Friend
Chapter 7 – Mitigating Organizational Liability: A Review Of U.S. Case Law And Regulations
By Julie Anne Friend
Checklists:
Enforcing Release Documents: Top Ten Tips
Health and Safety in Education Abroad Programs
Health and Safety in Education Abroad Programs: Next Steps
Chapter 8 – Insurance For Crisis Management
By Patricia C. Martin
Checklists:
Student Health Insurance for International Programs
Additional coverage
Policy Limitations
Additional Types of Insurance Coverage
Travel Insurance
Institutional Insurance Requirements