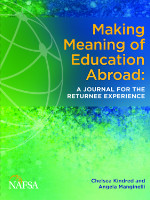 Making Meaning of Education Abroad is an interactive workbook designed to engage returned education abroad participants in critical reflection and vocabulary-building exercises in order to successfully articulate their international experiences in academic, community, professional, and advocacy settings. Through a series of structured and intentional activities, students learn how to connect their education abroad stories to their lives, families, peers, and communities at home.
Serving as a companion to the Making Meaning of Education Abroad: A Journal for the Returnee Experience student workbook, the facilitator's guide shares best practices and relevant theories that were used to frame the participants' exercises. This digital download provides contextual insight and resources that enable facilitators to help steer the students' reflection and learning processes toward productive outcomes.
Purchase the student workbook and facilitator's guide today.
Table of Contents
Letter from the Authors
Welcome Back!
Why Your Story Is Important
Part I: Building Your International Story
Reflecting on the Sensory Experience
Bringing Mindfulness Home
Sketching Your Experience
Tuning in Through Music
Reflecting on the Connections and Challenges
Reviewing Global Connections
Exploring Identity Through Mind-Mapping
Growing from Challenges
Reframing the Narrative
Staying Motivated
Part II: Including Your Audience in Your International Story
Finding Your Audience
Writing the Chapters of Your Story
Respecting Your Audience
Part III: Sharing Your International Story
Sharing Your Story With Family
Sharing Your Story With Peers
Connecting Your Friends With Your Experience
Sharing Advice With Peers
Saying Thanks
Sharing Your Story on Campus
Collaborating With Others
Listening to Others' Stories
Identifying Your Academic Outcomes
Sharing Your Story for Future Professional Pursuits
Crafting Your Elevator Pitch
Finding Your STAR Skill Sets
Sharing Your Experiences in Other Professional Settings
Sharing Your Story With Your Community and Beyond
Taking Action Through Advocacy
Creating Your Advocacy Calendar
Practicing Advocacy
Closing: Go and Do
References and Additional Resources