It's that time of year again – the time has come for the Annual Conference Committee (ACC) to select content for NAFSA's 2013 Annual Conference in St. Louis, Missouri. This weekend, the ACC is off to St. Louis to choose the sessions and current topics workshops for the conference, and we must say, we're impressed with what we've seen so far.
We received a whopping 475-plus proposals this year and had more than 150 reviewers help us make our decisions. As we dive headfirst into creating the St. Louis program, we're especially looking to highlight this year's theme, Ideals and Impact in International Education. We're looking forward to this process, but we can't do it without you! Here's how you can help us:
What are you looking for at this year's conference? What was missing from session or workshop content at last year's conference? Add your comments to this post and let us know how we can make the conference even better for you. You can always tweet me at @StephenFerst also.
If you submitted a session or workshop proposal, you'll hear from us by late November. If you didn't get the chance to submit a session or workshop proposal, don't worry! You have until December 10 to submit a poster proposal. A poster is a visual presentation where you connect one-on-one with attendees about your topic.
Learn more about the types of poster proposals we're looking for, and be sure to check out our newest poster fair, Best Practices in Addressing Gender and Sexuality in International Education.
I look forward to hearing all of your wonderful feedback. I'll be tweeting during this weekend's meeting so be sure to follow me @StephenFerst for all the latest #nafsa13 updates. See you in St. Louis!
---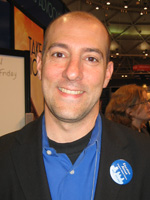 Stephen Ferst is the chair of the 2013 Annual Conference Committee. He is also the director of the Center for International Studies at Kean University in New Jersey. He has been working professionally in international education since 1989 as an adviser, recruiter, resident director, program officer, and director. Ferst has studied abroad in Israel and lived and worked abroad in the UK. He is past chair for the NAFSA Knowledge Community for Education Abroad as well as NAFSA State Whip for New Jersey. He regularly presents at both regional and national conferences on program administration and development, student preparation, gender and identity, sexual assault prevention, and technology in education abroad. He is a recipient of the Lily von Klemperer Award and the 2008 NAFSA Advocate of the Year. He earned a doctorate from Rutgers University, and his primary research was in university governance and department chair responsibilities.