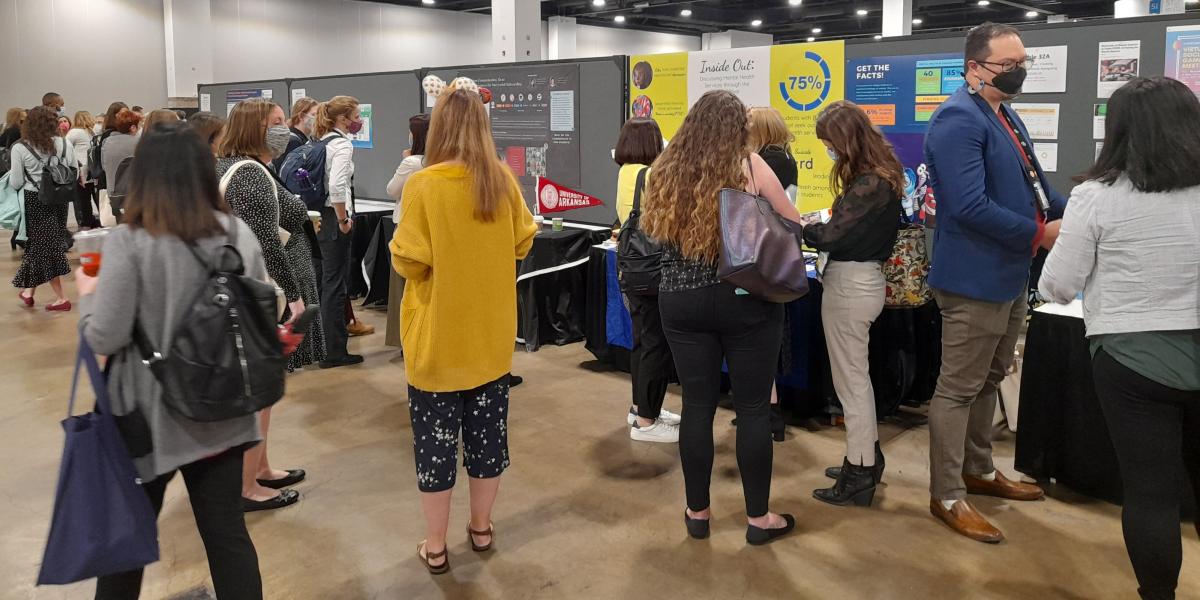 This Is Why Your Peers Think You Should Submit
If you know me, then you know the Poster Fair is one of my favorite parts of the NAFSA Annual Conference & Expo. This year, I am so excited to be serving as Poster Chair on the Annual Conference Committee (ACC). The Poster Fair provides a unique opportunity for international educators to connect with others in the field, network, share ideas, and learn from each other.
Before starting on the ACC, I was involved in the Poster Fair in several ways. After presenting a poster a few years in a row, I served as a poster proposal reviewer and later as a Poster Fair Organizer (PFO). The PFO role is integral to the posters at the conference, and the cohort of 28 PFOs help the ACC by soliciting and selecting the content.
I recently met with this year's PFOs to prepare for our upcoming proposal deadline. (If you're not aware, poster proposals are due on December 7, 2022, at 5:00 p.m. EST.) During our discussion, we shared what excites us about the conference's 14 themes, and I thought it would be helpful for me to share some of what they said about the poster fair and their assigned themes.
Read what they wrote below and submit your poster today for the upcoming NAFSA 2023 Annual Conference & Expo. (Learn more at www.nafsa.org/posters.) I can't wait to see what you submit!
What is exciting about (just a few) of the different themes?
Advocacy in International Education: "We advocate for our students, our scholars, immigration reform, and international education daily. Therefore, this theme has a broad reach and there is much to share with each other on tactics." —Marcia Taylor, University of South Florida
Crisis Management in International Education: "Crisis management is essential. The opportunity to learn best practices and gain resources from colleagues that have successfully navigated crises on their campus or abroad is priceless. It is exciting to know that attendees will walk away with new crisis management ideas and resources that will benefit their students, programs, campus, and community." — Katy Lane, Texas A&M University
Global Language Programs: "I have been in ESL field since 2009, so this topic is something that means a lot to me personally, and I want others to see the exciting things we do, the value behind our programs, and how we help support other aspects of international education." — Kayla Landers, Lehigh University
Intercultural Initiatives in International Education: "Particularly over the pandemic, the opportunity to study off-campus was extremely limited, which likely led to creative ways to increase international education opportunities on-campus. This is a good moment to explore what initiatives started and what we want to keep moving forward." —Kim Longfellow, St. Lawrence University
Orientation Programs as an Integral Support Service: "Whether it is in the international student services or study abroad setting, orientation is an integral and vital support service in helping students: set realistic expectations toward the new environment and themselves; gain essential information and skills to persevere; normalize and embrace the change. I am really looking forward to seeing the posters that reflect the updated needs and innovative approaches in international education." —Mingzhi Li, Virginia Tech
Updates on Country and Regional Higher Education: "I'm curious to see the impacts of what has happened after COVID-19 when opportunities for education abroad were limited or impossible." —Juan Godoy, University Institute for Health Sciences - Fundación Barceló
Why should you submit a poster proposal?
"We need more diverse voices in the field and increasing awareness of different programs that exist. We need to hear from a diverse range of institutions. This is a great opportunity to network, share experiences, and get feedback from others—from different regions and peer institutions alike. [It's a] great opportunity for individuals who are early in their careers to get involved in the national dialogue around international education." —Juan Godoy, University Institute for Health Sciences - Fundación Barceló; Kim Longfellow, St. Lawrence University; Lyndsi Jones, Fund for Education Abroad
"Posters are, above all, a fantastic way to reflect on a project. You have one page, and one page only, to describe it, get the goals out, share the results, and assess them. From a presenter perspective, it's a great reflecting tool. Second, it's a way to share knowledge on demand: people can stop by when they can, they grab the info they are interested in, and they have the option of engaging or not in a conversation. For presenters, it's a great way to talk to people without the pressure of running an entire session. And IT'S FUN!" —Margherita Pasquini, Università Cattolica del Sacro Cuore
"Poster presentations are a great way to share your work and ideas in a low-stress environment. It also gives you a chance to interact with your audience one-on-one. Poster presentations are ideal for new professionals and students as a first annual conference experience but also great for seasoned professionals who would like to share small-scale projects with the international education community." —Laure Bordas-Isner, University of Michigan-Ann Arbor
"[A poster presentation is] a low stakes way to start contributing to the field. [It] gives you an opportunity to have different types of conversation that you might not get in a session, [with] more specialized attention. [It] provides you with more creativity and independence to express your thoughts and ideas; [a] great way to re-engage in conversations about your topic." —Lindsay Allen, UPCES Study Abroad in Prague; Jarod Hightower-Mills University of Colorado-Denver; Vina Titaley, University of Delaware
"I love poster presentations—they offer a much more direct and interactional way for people to learn about topics.  I generally learn so much at poster fairs in a much shorter time than I would from a single session, and the main benefit is to be able to interact directly with the audience." —Brian Seilstad, Al Akhawayn University