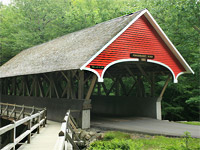 One of the best perks of visiting the Boston area is its vicinity to other fun, historic locations and terrains, including scenic beaches and mountains. This week's blog post is geared toward those who are interested in further exploring New England and planning to extend their conference week with additional day trips outside of Boston.
There are so many options when it comes to going to the beach. Although it may not be swimsuit weather yet due to the cold temperature of the ocean, a walk along the Atlantic can help clear your mind. Plum Island is an 11-mile long barrier island off the shore of Newburyport, and 1.5 hours north of Boston. It offers views of a charming lighthouse and a lush nature preserve, which is a haven for bird watchers from all over the country. If you head up this way, stop and explore the cute shops and cafes in the town center, or stroll along the residential streets of Newburyport, past the brightly colored homes dating back to the shipbuilding days of the 1700s.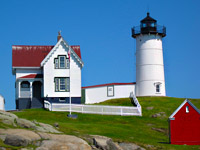 You may not realize it, but along the coastline, Maine is just a short distance away from Boston. One of my favorite walking paths can be found about 30 minutes north of Newburyport in Ogunquit, Maine. Marginal Way is a 1.25-mile trail which spans from Pelican's Bay to Ogunquit Beach. This paved path is family-friendly and features beautiful views of the mighty ocean as it hits the rocky shores of Maine. There are stops along the way where you can climb down and dip your feet in the water or climb out further on the rocks for some amazing photo ops. If you are looking to get a taste of fresh lobster, there are several good seafood restaurants in Perkins Cove. Also, another lighthouse lies just a few miles down the road in Cape Neddick. For the avid shopper, Kittery is well known for its outlets.
On your journey to or from Boston along the northern coast, you can also pass through the oldest town in New England, Portsmouth, New Hampshire, which is filled with boutiques and gourmet restaurants. The nearby mountains host several hiking options for travelers. The most well-known spot is the Franconia Notch State Park, located about 2.5 hours from Boston, in the heart of the White Mountains. Filled with trails of all levels, this was the former location of the rock formation, "The Old Man of the Mountain." This park has spectacular views of the surrounding areas and is a great spot to camp, canoe, or just explore. Follow the trail map  and see the sites, including the Flume Gorge located at the base of Echo Lake.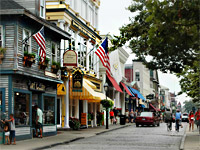 Don't forget that Rhode Island is just a hop, skip, and jump away, and home to two cities not to be missed—Newport and Providence. The maritime city of Newport, located about one hour from Boston, is home to several historic mansions from the mid-19th century and to the International Tennis Hall of Fame. Take a trolley tour to get a nice view of this city-by-the-sea or stroll down the 3.5-mile Cliff Walk to see the historic "summer homes" on one side and the stunning views of the ocean on the other. If you have time, you can even stop in and tour one or more of these beautiful mansions. If you prefer a nature trail, visit the Sachuest Point National Wildlife Refuge for more than 2.5 miles of sprawling nature trails along the coast.
Providence is a culturally rich city with the Rhode Island School of Design Art Museum located on Benefit Street. The revitalized Downcity area is filled with shops and great restaurants including birch, which offers an intimate setting with a modern American menu. Also, be sure to check out the WaterFire event schedule when it comes out this spring to see if you can catch their spectacular downtown light show.
If you are looking to stay closer to Boston, but still have time to explore, consider taking the ferry out to see the Boston Harbor Islands National Park area. Explore Civil War-era forts, take in a full view of the Boston skyline, have a picnic, take a nature walk, or go mountain biking on one of the designated trails.
If you would like to visit some of the more well-known tourist locations, Boston Harbor Cruises leaves from downtown Boston and head to Salem, home to the infamous witch trials of 1692, Cape Cod,Nantucket, and Martha's Vineyard. There are daily ferries to each of these locations and options to take your car or bike.
---

Clare O'Brien is the Local Arrangements Team (LAT) communications chair for the NAFSA 2015 Annual Conference & Expo. Originally from Buffalo, New York, Clare has lived in the Boston area for more than 20 years. She spent close to 10 years overseeing international student advising and study abroad at Fitchburg State University in Fitchburg, Massachusetts, and worked as an international educator in Wisconsin, New York, and Massachusetts while she earned both her master's and doctorate degrees. Clare currently works part-time as an international education consultant where she has assisted several local universities and third-party providers. She is also coediting an anthology of short stories titled From Bangkok to Boston: Inspiring Stories of Travel and Adventure from International Educators.