Attention NAFSA foodies! San Diego has no shortage of Food Network Star, Top Chef and local Mom and Pop eateries prepared to satisfy the pallets of food aficionados from around the world. There is an exciting food culture in San Diego that goes well beyond the obligatory coastal question, "Where is the best seafood restaurant?"
World travelling international educators know the best culinary finds are discovered when you "ask a local." This blog post is devoted to sharing the favorite culinary haunts of some members of the Local Arrangements Team. The following are a few of our "must eat" restaurant recommendations. And, for those of you interested in finding the perfect happy hour, stay tuned for an upcoming blog post exploring the best in San Diego libations.
The Prado at Balboa Park recommended by Sue Atkins (Local Arrangement Team co-chair)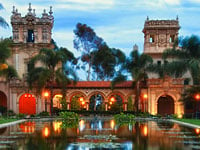 At The Prado, smack dab in the heart of world famous Balboa Park, the argument is which is better… the view or the food? A truly unique spot for lunch, happy hour or dinner, The Prado knocks it "out of the park" with delicious food and the best atmosphere you could ask for. This is also provides a great excuse for exploring the beautiful museums and gardens of Balboa Park. Try the Kobe Beef Sushi Roll and the calamari!
Brooklyn Girl Eatery recommended by Bradley Moon (communications chair)
As a relative newcomer to San Diego, and a fan of farm to table, I was quick to discover Brooklyn Girl Eatery, in the charming Mission Hills neighborhood. With seasonal and locally sourced organic menu items, Brooklyn Girl is a casual neighborhood restaurant with a sustainable farm-to table attitude. My menu favorites are the Mediterranean Black Mussel Pot and the oysters, paired with a nice California Pinot.
Casa Guadalajara recommended by Danelle Boone (special events co-chair)
Located at the north entrance to historic Old Town (the birth place of San Diego) is Casa Guadalajara, which has been awarded the best Mexican restaurant in San Diego, as well as having received top billing for some of the best margaritas in town! Danelle's favorites are the Tostada de Jalisco or the Chicken and Avocado Chimichanga, accompanied by the Mariachi Band!
Jimmy Carter's Mexican Café recommended by Olga Piro (evaluations co-chair)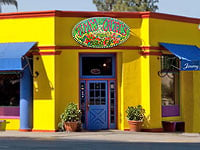 One of the most authentic Mexican restaurants in town is called Jimmy Carter's Mexican Café, on the corner of 5th Avenue and Spruce, just blocks from Balboa Park. Don't let the name fool you (no Southern cuisine here) Jimmy Carter's offers standard Mexican fare, but its daily specials, a variety of regional dishes from Mexico, are a must! The atmosphere is casual and lively, and it has have good local brews and a full bar (try the Serrano Margarita!) Many locals don't even know about this place, but once you discover it, you're not likely to bother going anywhere else in town for Mexican food.
The Mission recommended by Marilee Hong (registration co-chair)
Located in downtown San Diego's East Village, The Mission is a "worth the wait" brunch spot for San Diego locals. The setting is urban and charming, and, when in San Diego, you should definitely try a Latin inspired breakfast (you can get a pancake anywhere, right?) At The Mission, not to be missed is the Plato Verde Con Huevos- sweet corn and green chili tamales and eggs, covered with a roasted tomatillo sauce.
Blue Water Seafood Market & Grill recommended by Jane Kalionzes (Local Arrangements Team co-chair)
As featured on Food Network's Diner, Drive-ins and Dives, Blue Water Seafood Market & Grill on India Street at the foot of Mission Hills has some of the best fresh seafood in town and is definitely worth waiting in line for! Famous for its fish tacos, chowders and oyster bar, this is a local favorite not to be missed!
Extraordinary Desserts recommended by many on the Local Arangements Team
Forget your diet and your gym membership and go for a seriously unforgettable over the top sweet visit to Extraordinary Desserts. Extraordinary Desserts is described as the place where "dazzling artistry, sublime tastes and attentive service come together to inspire guests to exclaim that their sweet tooth will never be satisfied anywhere else again." I couldn't have put it better myself. With locations in Little Italy and Hillcrest, there is no better place in San Diego to satisfy your sweet tooth.
Cowboy Star recommended by Chia-Yen Lin (conference information and hospitality co-chair)
Saddle up, international educators! Carnivores ready to splurge on a night on the town, should definitely consider swinging by Cowboy Star in the East Village. Serving American cuisine with a Western Flare, Cowboy Star is committed to supporting local and regional famers, fishers and producers with the best natural organic ingredients. The menu features the select natural products from the leading Certified Humane Angus herd and the freshest seafood available. This snazzy downtown eatery is award winning!
---

Bradley Moon is the Local Arrangements Committee (LAT) communications chair for NAFSA's 2014 Annual Conference & Expo. Bradley was born and raised in Des Moines, Iowa, and spent a number of years living, studying, and working abroad. He earned his master's degree from Hawai`i Pacific University in Honolulu and began his higher education career in in 2005 after touring with Cirque du Soleil throughout Europe and North America. Moon is currently the assistant director of international recruitment and communication at San Diego State University, having worked for Hawai`i Pacific University and the University of Hawai`i – Leeward Community College.