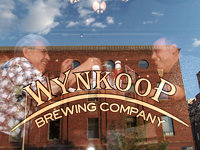 Denver has a well-deserved reputation of being the Napa Valley of craft beer. Every neighborhood has a thriving bar scene and you're certain to find a local wine, spirit, or craft beer that will make you want to return for more! Each local has his or her own top happy hour selections and there are too many to list in a single blog post! You'll find my favorites below, but I encourage you to explore during your time in Denver and fill me on any secret spots you stumble upon!
Downtown
The Wynkoop Brewing Company is known for its delicious local brews and famous founder, Governor John Hickenlooper. It was the first brewpub to open in historic downtown Denver after the end of Prohibition! At Wynkoop, you can enjoy live comedy in the basement or play pool upstairs – there are bars on both levels. On Monday-Friday from 3:00 p.m.-6:00p.m., you can enjoy great happy hour- specials: $3.50 on select beers and $4 for food specials. Complimentary brewery tours are available Tuesday through Saturday at 3:00 p.m. and 4:00 p.m.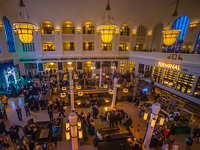 One of my favorite happy hour spots, Terminal Bar, which is located inside the Union Station has an extensive wine list, award-winning burgers, and a great selection of Colorado craft beer, local spirits. This spot gets very crowded – go early if you want a seat! The weekday happy hour is 4:00 p.m.-6:00 p.m. and offers $4 draught beers, $5 well drinks, and $7 cocktails and wines by the glass.
The ViewHouse at the ballpark location tends to be a favorite among locals, not only for happy hour but before and after Rockies games! Conveniently located next to Coors Field, volleyball courts and a big outdoor lounge area make this a really fun and energetic spot, with a youthful vibe. Enjoy $3 small ballpark bites, $9 plates to share, $3 wines and beers, and $5 cocktails from 3:00 p.m.-6:00 p.m. Monday-Friday.
Seeking a laid-back atmosphere and an excellent view of downtown Denver? Avanti Food and Beverage is a much-loved happy hour and dining destination, located in the Highlands area. Enjoy one of 20 craft beers, classic cocktails, and unique selection of food items. The patio is a great spot for a photo, with its views of the Denver skyline. Drink specials include $4 Odell's, $5 IPA's, $6 wines, and $5 well drinks from 4:00 p.m.-6:00 p.m. during the week.
Colorado is traditionally known for having stellar Mexican fare and Lola Mexican Fish House certainly lives up to this reputation! Located in the Highlands area and offering an excellent view of the city, the savory cuisine and award-winning Margaritas make this a local favorite. According to the bar's website, it's been named as one of the "top five places to drink tequila in North America!" That's no minor achievement. At happy hour, you can enjoy discounted margaritas, beer, and wine, as well as select tacos and other delicious homemade bites.
Fortunately for me, I live around the corner from the The Atomic Cowboy on Tennyson Street. This spot serves mouth-watering, New York-style pizza from Fat Sully's Pizza and savory biscuits from the Denver Biscuit Company. All three family restaurants are in the same area. Sunday through Thursday from 9:00 p.m.-12:00 a.m., you can get a slice of pizza and a pint of beer for $5. That deal is tough to pass up! And I'm convinced these are the biggest slices in North America! Daily happy hour from 3:00 p.m.-6:00 p.m. includes half off any drink selection.
---

Michele Friedmann is the Local Arrangements Team (LAT) communications chair for the NAFSA 2016 Annual Conference & Expo. Michele was born and raised in Reading, Pennsylvania. She attended Gettysburg College where her love for study abroad began. Michele spent a semester in Australia, circumnavigated the globe on Semester at Sea, and student taught in London. Michele earned a master's degree from the School for International Training in the area of international education. She interned for Barcelona SAE as a program and student adviser. She has worked for the Institute of International Education and the Fulbright Foreign Student Program. Michele is currently the student and program manager for Global Players, a study abroad program geared toward student athletes.