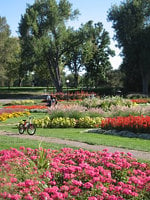 There are so many great neighborhoods in Denver — one week is simply not enough time to check them all out! From beautiful parks and hip restaurants to trendy music venues and a funky art scene, Denver has it all! Here a few of my favorite spots.
Washington Park
This neighborhood is named after Denver's most popular park. The dozens of runners you'll see on a sunny day will inspire you to lace up your running shoes and jog the 2.6-mile path that follows the perimeter of the park. With its beautiful 165-acre sprawl of lakes, flower gardens, and tree-lined paths, this is an ideal place to relax or simply enjoy being outside. On weekends when the weather is nice, you'll find me on the volleyball courts with dozens of others. Nearby on South Pearl Street, you can enjoy galleries, cocktail bars, boutiques, and high-end clothing stores.
Highlands
This is my favorite neighborhood to check out bars and restaurants, grab a coffee, and just hang out! Victorian-style homes, beautiful parks, independent shops and bars, art galleries, and restaurants can be found in this quaint quarter. The districts to explore are Highlands Square, Tennyson Street, and Lower Highlands (LoHi). I'm lucky enough to live on Tennyson Street and I love to stop in one of the coffee shops (Allegro is my favorite), listen to the live music at Local 46 Bar and Biergarten, or grab a glass of wine and an appetizer at West End Tap House.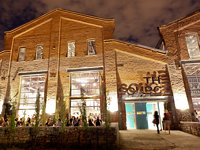 RiNo/ River North Art District
I've only recently discovered this popular neighborhood—located just north of downtown Denver—and I love it! In this area, you can find historic warehouses and factories that now house creative business, funky breweries, shops, art galleries, and even a church! Impressive graffiti colors the walls of most buildings. In addition to strolling and checking out the artwork, I recommend visiting The Source—a collection of restaurants, markets, artisan shops and even a craft brewery.
Great video: RiNo is "where art is made."
Santa Fe
Continuing with the art theme, Santa Fe is home to 60 art galleries, studios, and innovative businesses. The Latino influence in this neighborhood is evident from the colorful murals to the tasty neighborhood restaurants. My favorite is Palacio Café, which has authentic Mexican food at a great price. , During the art walks held on the first Friday of every month, art galleries display local crafts, provide opportunities to meet and mingle with artists, and offer complimentary wine. If you enjoy art, this neighborhood is worth checking out!
Cherry Creek
A fun, albeit pricey, neighborhood is Cherry Creek. The tree-lined streets, impeccable cleanliness, high-end restaurants and shops, and charming feel drive up the housing and rental demand in this area. While exploring, you can enjoy impressive art galleries, stores from international fashion brands, relaxing spas, and luxury hotels. Personally, I love people watching at Second Home Kitchen + Bar inside the JW Marriott. You never know whom you will meet there! The well-known Cherry Creek Shopping Center features 160 stores and will satisfy every type of shopper.
South Broadway
South Broadway and the Baker district are home to neighborhood taverns, vintage clothing stores, bookstores, ethnic restaurants, craft shops, and hip live music venues. If you're into shopping for antiques, this is your place! South of Alameda Street you'll find "Antique Row," which has almost 100 antique stores packed into 18 blocks. My favorite cinema, The Mayan Theatre, is also in this neighborhood. This theater, built in 1930, features independent and foreign language films and is one of the country's three remaining theaters designed in the Art Deco Mayan Revival style. It's the most interesting theater I've ever been inside of! I also enjoy bowling, socializing, and playing table tennis with friends at Punch Bowl Social, a large entertainment venue.
---

Michele Friedmann is the Local Arrangements Team (LAT) communications chair for the NAFSA 2016 Annual Conference & Expo. Michele was born and raised in Reading, Pennsylvania. She attended Gettysburg College where her love for study abroad began. Michele spent a semester in Australia, circumnavigated the globe on Semester at Sea, and student taught in London. Michele earned a master's degree from the School for International Training in the area of international education. She interned for Barcelona SAE as a program and student adviser. She has worked for the Institute of International Education and the Fulbright Foreign Student Program. Michele is currently the student and program manager for Global Players, a study abroad program geared toward student athletes.