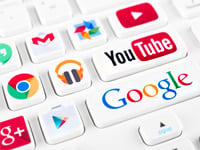 Ahhhh, technology. It has the power to make the hardest job tasks disappear with the click of a button. But for those who aren't tech savvy, technology woes can make the easiest of tasks more complicated than need be. Lucky for us, Google has streamlined their available apps to make them useful and, most importantly, user-friendly. Here are some of my favorite Google apps that are worth learning more about and incorporating into your workday.
Getting Started
Google provides many handy (and free!) apps that can simplify some of your day-to-day office activities. In order to take advantage of Google's arsenal of tools, you'll need a Google account. Even if you already enjoy a personal Google account, I recommend setting up a separate account for your work materials. Choose a username that is professional and makes sense for you, but make sure that you are following your institution's policies on name use and copyright (for example, you may not want to incorporate your mascot's name). With a single Google account, you have access to all of Google's apps and an extensive storage platform known as Google Drive. Note that you don't have to use all of the apps; for example, I don't use the Gmail app for my professional Google account, rather I elect to use my official university e-mail address for institutional communication.
Google Forms
Does your office regularly try to collect information from students and faculty? Available meeting times for events, registration information for advising sessions, survey data, volunteer sign ups, RSVP's, etc. can all be a bear to manage via e-mail and are not very accessible or convenient via hard copy documents. Consider using Google Forms. You can easily create any number of forms with customizable data fields, then create a link and send it out via your institutional e-mail address or social media channels. Anyone with the link can then complete the form. The best part? Responses are collected and automatically organized into a spreadsheet within Google Sheets, which behaves much like Microsoft Excel and can even be exported into Excel. Say goodbye to data entry!
My office recently adopted Google Forms to better manage our international photography contest. All interested applicants were directed to our webpage to click on our Google Forms link, where they filled in all of their information, discussed their photo, and were then given instructions on how to upload their digital photo onto our file share site. The entire process was paperless, and our participation rate and the quality of entries increased due to the flexibility and accessibility of our new format.
Google Docs and Slides
Do you regularly collaborate on written documents with colleagues? Do you share in the responsibility of drafting policy or composing memos where everyone's input is needed? How do you share and track subsequent versions? My guess is that you have a sequential naming convention and e-mail back and forth (does this subject line look familiar? "FINAL_FINAL_ document _policy_5_reallythistime"). What if you could all edit your sections at the same time? Or be assured that you are editing the latest version?  Try out Google Docs. The shared platform automatically saves all data, let's you see everyone's progress in real time, and you can even view who currently is working on the document. No need to worry about what version of Microsoft Word everyone has installed or any MAC or PC issues. Everything is based in the cloud with Google.
Similarly, Google Slides provides much of the functionality of Microsoft's PowerPoint, but solves the version and collaboration issues mentioned above. No need to save a version to each teammate's laptop, to a backup thumb drive, and, just to be on the safe side, e-mail it to yourself. It lives in the cloud and can be accessed from any internet connection (and downloaded prior if you have questionable connectivity at your presentation site). Try it the next time you are building a presentation with a colleague, as my copresenters and I are doing for this year's NAFSA annual conference presentation.
Google Hangouts
Have you often thought about how handy hosting a webinar would be to reach a wider audience?  Some webinar hosting platforms are costly and others are hard to figure out. How many webinars have you been a participant to where you had to wait through technical issues? Consider using Google Hangouts. You can host live, interactive sessions with your audience and—this is the best part—record the sessions to post online so that others can view them at any time. This has worked well for hosting general advising sessions, for meetings with students or colleagues overseas, and for getting some face-to-face interaction with those who need that kind of communication. Some tips to get you started: it's easiest to host a Hangout with a group of 10 or less, using headphones with a mic provides the best audio quality, and practice a few times before your scheduled Hangout.
More Ways to Boost Your Tech Knowledge
Finally, if you're interested in finding more ways in which technology can help make your workday more productive and effective, consider joining the NAFSA TechMIG. With its mission to promote the use and adoption of technology throughout the world of international education, through outreach, support, resources, and discussion across all mediums, there are plenty of ways to benefit and grow more tech-savvy. More information about the NAFSA TechMIG can be found at http://nafsatechmig.com/
Interested in learning more? Join me and my team on Thursday, May 28 from 12:00 p.m.–12:45 p.m. for our presentation, "Technology Hacks for the Busy Office," in the Career Center located in the Expo Hall.
---

Elizabeth Mills is the coordinator of international education programs and outreach at the University of Tampa. As a member of the university steering committee on experiential education, she actively pursues research on student perceptions and outcomes relating to international education in an effort to increase learning outcomes for participants. As part of the campus emergency operations team, she strives to find innovative uses of instructional channels to implement risk management programming for study abroad populations. She serves as a social media manager for NAFSA's TechMIG and holds master's degrees in marketing and instructional design and technology.