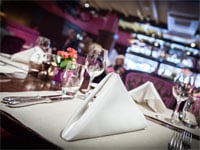 My role for the next two weeks is to whet your appetite as you start to plan your time in Boston for the NAFSA 2015 Annual Conference & Expo. I can't think of a better way to do this than to introduce you to some of the many restaurant options in Boston over the next two blog entries. Get ready, foodies, the possibilities are endless!
In order to get a handle on the variety of cuisines and price ranges, I found it easiest to highlight restaurants according to geographic areas, starting of course with the Seaport neighborhood close to the Boston Convention & Exhibition Center. For those of you without much time to explore, there are at least a dozen restaurants within walking distance.
Photo by Eric Chan, under Creative Commons public license
Legal Harborside is a three-story seafood eatery offering a casual, family-friendly first-floor restaurant (moderately priced entrees) and a second-floor high-end dining option with fresh catch of the day entrées and floor-to-ceiling views of the Boston Harbor. If you would just like to have a snack or a drink, check out the third-floor rooftop lounge and bar.
Tamo Bistro and Bar is a great place to meet up with friends and share a few small plates because one would not want to miss out on all that is listed on their menu, from sushi to swordfish skewers. Pizza and a tasty variety of sandwiches are also available to patrons.
For upscale Mexican cuisine, Temazcal is a nearby option. With more than 250 types of tequila and a beautiful view of Boston Harbor, who could ask for more? Rosa Mexicana is not as high end, but the food here is amazing! It is sure to be busy, but the service is great and the tacos and duck tinga is outstanding. During the day, this is also a nice family-friendly option.
Photo by Henry Zbyszynski, under Creative Commons public license
Soak up the New England culture and enjoy the catch of the day at The Barking Crab, located at the edge of the historic Fort Point Channel. This casual dining first started as a traditional outdoor clam shack, but has grown into a year-round favorite among locals. It houses an extensive raw bar and patrons can choose from several fresh seafood dishes.
If you are on a tight budget, Boloco Inspired Burritos, the Chowda Company, and Sebastian's Café all offer quick and tasty lunch options.
I polled several Bostonians to come up with this list, but if you are familiar with this area of Boston and would like to add your suggestions, please feel free to comment. Stay tuned next week for more restaurants in other parts of Boston!
What restaurants are you planning to visit? Tell us in the comments.
---

Clare O'Brien is the Local Arrangements Team (LAT) communications chair for the NAFSA 2015 Annual Conference & Expo. Originally from Buffalo, New York, Clare has lived in the Boston area for more than 20 years. She spent close to 10 years overseeing international student advising and study abroad at Fitchburg State University in Fitchburg, Massachusetts, and worked as an international educator in Wisconsin, New York, and Massachusetts while she earned both her master's and doctorate degrees. Clare currently works part-time as an international education consultant where she has assisted several local universities and third-party providers. She is also coediting an anthology of short stories titled From Bangkok to Boston: Inspiring Stories of Travel and Adventure from International Educators.