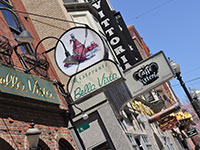 As I mentioned in my last blog post, there are an abundance of wonderful restaurants in Boston. Several of these restaurants have well-known chefs and are frequently featured on TV and in "foodie" magazines. I know some of you may not have much free time to do the tourist thing and travel around the city, but if you make a point to get out for a meal, many of these locations will allow you to see some of the best parts of Boston.
I asked my colleagues from the Local Arrangements Team (LAT) to join in and share some of their favorite eateries. Here are a few of their suggestions:
Photo by 6SN7, under Creative Commons public license
LAT Conference Information and Hospitality Co-Chair Adrienne Nussbaum says her favorite Thai restaurant is the Brown Sugar Café, located a short T ride from the Back Bay. Adrienne recommends the Rama Garden, a specialty dish where you can select your favorite meat or veggies, which are steamed and covered in a lovely peanut sauce. Adrienne also highlights Aquitaine, a favorite French restaurant in the South End, or Tapeo on Newbury Street, right in the Back Bay for fantastic tapas.
LAT Special Events Co-Chair Laurien Romito loves Lineage in Coolidge Corner, a quaint neighborhood in Brookline, down the street from the birthplace of John F. Kennedy. She enjoys the $1 oysters they serve every day from 5:00-7:00 p.m. This farm-to-table restaurant offers modern American cuisine and is easily accessible by public transportation.
If you are willing to venture out to Cambridge, Kristin Vaccaro, LAT conference information and hospitality co-chair, recommends Trina's Starlight Lounge, which has been featured on Esquire Network's "Best Bars in America" and the Food Network's "Diners, Drive-Ins and Dives." Kristin always goes for their "Dog of the Day," but their menu is outstanding and changes with the seasons. Trina's is also known for their chicken and waffles, as well as their blue plate special. In addition, the restaurant has spaghetti and meatball night on Tuesdays and Sloppy Joe night on Wednesdays.
If you are looking for a family-friendly place to eat, LAT Special Events Co-Chair Theresa Higgs recommends Flatbread Company. Diners can bowl as they eat, and with a variety of pizzas and salads, everyone is certain to find something they like! Theresa also loves The Painted Burro for Mexican food and Redbones for real BBQ. Her selections are found in Somerville in Davis Square, easily accessible by public transportation.
For a scenic dinner, LAT Program Support Co-Chair Kathleen Sparaco suggests Alma Nove in Hingham, Massachusetts. The setting for this restaurant is beautiful, and the blending of Italian and Mediterranean cuisine cannot be beat. Kathy explains that you can take a ferry from Rowes Wharf in Boston directly to Hingham, which gives you the chance to see the Boston Harbor Islands along the way.
Stacia Biel, LAT co-chair, has several favorites to suggest. She favors two possible options in the North End, Boston's Italian neighborhood, which boast more than 100 restaurants. Mother Anna's on Hanover Street, which has been around since 1932, and Bricco, fine Italian dining with a late night menu, serving until 2:00 a.m. Stacia also loves the Union Oyster House, a classic New England favorite at Quincy Market, or Figs, a casual bistro that has two locations (Back Bay or Charlestown) with locally famous chef Todd English serving unique pizzas. She also enjoys Meyers and Chang, which serves contemporary Asian fusion dishes in a modern diner setting.
If you have spent time in Boston, what restaurants would you recommend to the out-of-towners?
---

Clare O'Brien is the Local Arrangements Team (LAT) communications chair for the NAFSA 2015 Annual Conference & Expo. Originally from Buffalo, New York, Clare has lived in the Boston area for more than 20 years. She spent close to 10 years overseeing international student advising and study abroad at Fitchburg State University in Fitchburg, Massachusetts, and worked as an international educator in Wisconsin, New York, and Massachusetts while she earned both her master's and doctorate degrees. Clare currently works part-time as an international education consultant where she has assisted several local universities and third-party providers. She is also coediting an anthology of short stories titled From Bangkok to Boston: Inspiring Stories of Travel and Adventure from International Educators.