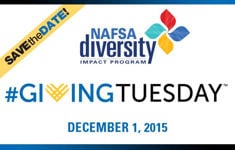 #GivingTuesday is a day to celebrate generosity and to give back. Founded in 2012 by the 92nd Street Y and the United Nations Foundation, it has grown into a global movement engaging 30,000 organizations worldwide every year. NAFSA participated in the #GivingTuesday movement for the first time in 2014. Our efforts helped contribute to the more than $45 million in donations contributed in a single day last year.
NAFSA is once again asking everyone to join in #GivingTuesday by contributing in support of the NAFSA Diversity Impact Program.
The goal of the Diversity Impact Program is to help foster diversity, both professionally and institutionally, within the field of international education.

In 2015, 28 outstanding international education professionals from tribal colleges and universities; historically black colleges and universities (HBCUs); Hispanic-serving institutions (HSIs); and community colleges and associates colleges, received complimentary registration to the NAFSA Annual Conference & Expo, yearlong mentoring, and access to professional development opportunities.
We will continue this initiative next year to help even more international educators grow and better serve their students and communities.
Your support guarantees new and diverse voices in the field are heard while also establishing a pathway that guides participants to future leadership roles.
Tell everyone you know about your participation by using the hashtag #GivingTuesday on your favorite social media channel. Post a message on our Facebook page or send us a message @NAFSA on Twitter. This will build even more awareness about our fundraising effort on this special day.
Celebrate NAFSA on Giving Tuesday with your gift to the NAFSA Diversity Impact Program.