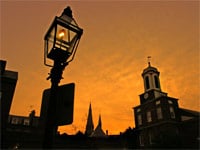 When the conference day is over, there is a good chance you will be looking for the perfect place to meet up with friends, decipher the day, and enjoy a drink, an appetizer, or both. The Local Arrangements Team has several suggestions for places around the Boston area where you can unwind from the day.
Lucky's Lounge, located a short walk from the Boston Convention and Exhibition Center, is known as "the den of cool." In addition to a wonderful menu, this pub, fashioned after a speakeasy, offers old fashioned cocktails, a great wine list, and a large range of craft beers. Live music provides a nice backdrop on weekend nights, with reggae music on Thursday nights. Free shuttle service is available to those staying in South Boston.
Les Zygomates, a wine bar and bistro located by South Station in Boston, caters to large groups but can also provide an intimate setting. Patrons can peruse their extensive wine list, one of the best in Boston, while listening to live jazz music Tuesday through Saturday. Come in for their dollar oyster happy hours offered daily from 4 p.m. to 6 p.m.
For the bar that throws a cocktail party every night, try Drink in Fort Point. Small and big bites are on the menu to complement a variety of cocktails which mingle old fashioned mixes with a modern twist. Their goal is "to provide a welcoming spot at which to enjoy a memorable cocktail, some great conversation and sustenance."
For an authentic pub experience, with live Irish music a few nights a week, try The Burren. Located in Somerville and a short walk from the Davis Square T stop, this pub has a generous selection of local craft beers as well as your favorite national brews. Use this pub as a starting or end point for the night as there are several great restaurants and bars in this area of town. The Burren is very informal but filled with Irish charm!
If you are looking for a full night out and are ready to dance the night away, there are several bars and clubs in the Fenway Park area. Jillian's is more than a bar or club with 30 billiard tables, seven bars, and even a bowling alley. For live music, Bill's Bar, Church, or the House of Blues are nice options. And for those of you who are Red Sox fans, Jerry Remy's, owned by the former Red Sox player, is a sports bar which offers rooftop seating overlooking Fenway's right field wall.
As you can see, the nightlife in Boston is vibrant. Be sure to get out and enjoy it!
---

Clare O'Brien is the Local Arrangements Team (LAT) communications chair for the NAFSA 2015 Annual Conference & Expo. Originally from Buffalo, New York, Clare has lived in the Boston area for more than 20 years. She spent close to 10 years overseeing international student advising and study abroad at Fitchburg State University in Fitchburg, Massachusetts, and worked as an international educator in Wisconsin, New York, and Massachusetts while she earned both her master's and doctorate degrees. Clare currently works part-time as an international education consultant where she has assisted several local universities and third-party providers. She is also coediting an anthology of short stories titled From Bangkok to Boston: Inspiring Stories of Travel and Adventure from International Educators.