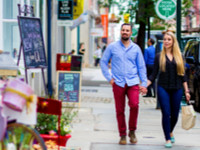 Most of us in the international education field would list traveling as our favorite hobby. We enjoy wandering from place to place, learning new things, and soaking in all that the world has to offer. Most of us can also agree that for every amazing travel story, we have horror stories of missed connections, unplanned detours, and involuntary itinerary changes. But at the end of the day we appreciate that it is life's unplanned surprises that turn our bad experiences into travel wisdom. As Ralph Waldo Emerson wrote, "It's the not the destination, it's the journey."
As you plan your trip to Philadelphia this May for the NAFSA 2018 Annual Conference & Expo, consider some of these tips on both the journey and the destination to explore all that the city has to offer!
Transportation
Philadelphia is a generally walkable city, and with NAFSA 2018 being held in Center City, where there are many attractions within walking distance, leaving the downtown area may seem unnecessary. But with an abundance of neighborhoods, museums, and restaurants to explore knowing how to get around is a must!
Traveling within Philadelphia
With only 25 blocks in-between two rivers, the Delaware and the Schuylkill, Philadelphia is a narrow city making it a pedestrian and biker's paradise. Thus, there are many walkable paths and guided historical routes to follow, as well as bike share options and designated bike lanes.
Philadelphia hosts three major public transport services:
Amtrak, servicing mainly the Northeast Corridor
SEPTA, the regional rail service connecting the suburbs of the city with a two-line subway system (the Market-Frankford Line running east-west and the Broad Street Line running north-south)
PATCO, connecting New Jersey to Philadelphia
More creative options of getting around include:
Trolleys
Bus tours (Philadelphia Phlash and other Big Bus tours)
Boat (Ride the Ducks and RiverLink Ferry)
View a detailed list with even more transportation options.
Traveling In and Out of Philadelphia
Philadelphia International Airport (PHL)
PHL is a mid-sized airport with countless amenities and is located only a short 10-15 minute car ride from Center City. On the drive, enjoy great views of the Philadelphia skyline, the city's professional sports stadiums, and mostly likely a mural or two! International arrivals and departures can be found at terminal A and all other gates at terminals B-F. One of the best things about PHL is that there are no tram rides or extensive connectors between terminals so you can enjoy a bit to eat in terminal C and then catch your flight in terminal F.
From the airport, you can take a ride-share service, taxi, or the SEPTA regional rail line to Center City.
30th Street Station
If you are traveling from Washington D.C., New York, or Boston, you may consider taking an Amtrak train, and the 30th Street Station will be your stop! This breathtaking Art Deco building houses Amtrak trains, with the option to transfer to SEPTA regional rails. The 30th Street Station is outside of Center City so if you are staying near the Convention Center you will have to use a second mode of transportation like the regional rail or a ride-share. View a detailed guide.
Attractions
There are truly endless amounts of things to do in Philly and certainly something for every type of visitor. Below is a list of some of the most popular attractions to check out with more "off the beaten path" suggestions in coming posts. But to get you started, here some top to-do's:
Liberty Bell and Independence Hall The birthplace of democracy in America
Reading Terminal Market Foods from around the world and steps away from the Convention Center
Franklin Square A park complete with a carousel, mini-golf course, and marble fountain
Philadelphia Museum of Art (PMA) The famed "Rocky" steps and world-renowned art exhibits
National Constitution Center Discover the history of America's quest for freedom
The Philadelphia Zoo America's first zoo
Please Touch Museum A "hands on" museum perfect for children
LOVE Park Visit the city's famous LOVE statue
Franklin Institute Interactive science and history museum with alluring exhibits
With so many convenient and accessible transportation options coupled with attractions to match every visitor's interest, planning some extra days in Philly around #NAFSA2018 is a must!
---
Hailey Gouza is the university relations coordinator and marketing assistant for the Mid-Atlantic region at Barcelona Study Abroad Experience (Barcelona SAE) and Local Arrangements Team (LAT) communications chair for the NAFSA 2018 Annual Conference & Expo.