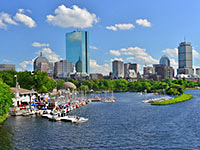 Hopefully you have had a chance to check out the blog posts covering all that you can see and do in Boston as you attend the upcoming NAFSA Conference and Exhibition. Here are a few last minute pointers to help make your conference experience even brighter.
Attend the Opening Celebration at the World Trade Center. I know that many of you may be exhausted from your journey to Boston, but don't miss out on the beautiful views of the Boston Harbor during the walk over to the World Trade Center after the opening plenary. With a beautiful sunset in the background, enjoy some food and drinks with your colleagues and start your networking early. Each conference registrant will receive one drink ticket and there will also be a cash bar on hand. Let this memorable evening set the stage for a successful conference experience.
Review the transportation blog (or just coordinate your travel plan ahead of time). If you are staying at a hotel in the Copley or Back Bay area, remember that there will be shuttle service to the Boston Conference and Exhibition Center (BCEC) throughout the day and into the evening. That being said, Boston traffic can be a challenge—a shuttle ride can take up to 30 minutes during rush hour. Also keep in mind that the dates of the conference coincide with several university graduation ceremonies. This will increase the level of traffic and the number of drivers on the road who don't know their way around Boston. Be sure to take travel time into account when planning out your day.
Wear comfortable shoes. I know it is difficult for many women to even contemplate life without heels, but with the amount of walking required, you will regret it if you do not pack the appropriate footwear. Luckily the BCEC is well laid out which makes it easy to get from one place to another.
The weather. New England weather can be unpredictable so you should plan to wear layers. The air conditioning in the BCEC may be too powerful to some attendees, yet Boston has already seen temperatures reach 80°F/26°C. As Mark Twain said, "If you don't like the weather in New England now, just wait a few minutes."
Don't forget to communicate. If you haven't already done so already, join the NAFSA online community and follow us on Facebook. Share your favorite conference moments and reach out to your colleagues on Instagram, Twitter, and Facebook with the hashtag #NAFSA15.
Plan to have fun. Yes, there may be immigration regulation changes that you need to learn about, and there may be several people from around the globe you must connect with for your institution, but don't lose sight of the fact that this conference is the perfect time to meet new people with similar visions, to learn more about other cultures, and to recharge your batteries so you can return home with even more knowledge and motivation—and all of this with the wonderful city of Boston as your backdrop!
And with that in mind, I leave you with this amazing time-lapse video covering the installation of the Greenway-Echelman Sculpture, which you will be certain to see when you arrive in Boston.
---

Clare O'Brien is the Local Arrangements Team (LAT) communications chair for the NAFSA 2015 Annual Conference & Expo. Originally from Buffalo, New York, Clare has lived in the Boston area for more than 20 years. She spent close to 10 years overseeing international student advising and study abroad at Fitchburg State University in Fitchburg, Massachusetts, and worked as an international educator in Wisconsin, New York, and Massachusetts while she earned both her master's and doctorate degrees. Clare currently works part-time as an international education consultant where she has assisted several local universities and third-party providers. She is also coediting an anthology of short stories titled From Bangkok to Boston: Inspiring Stories of Travel and Adventure from International Educators.