Ready to relax and party the night away at NAFSA? You're in the right place in St. Louis. Our town is home to many nightclubs, lounges, and bars, catering to all tastes.
To party like a local, you'll want to check out St. Louis' live music scene; luckily, for you, the city—home to the regional style of music known as the St. Louis blues—will host the annual St. Louis Bluesweek Festival over Memorial Day weekend, just minutes from the convention center.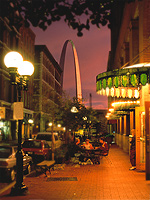 St. Louis Blues
To feel more of the pulse of the city's live blues music scene, you'll want to head to the Beale on Broadway or BB's Jazz, Blues, and Soups. Don't miss Kim Massie perform—she plays every Tuesday and Thursday night at Beale on Broadway. These clubs are adjacent to one another, and are a short taxi ride from the convention center.
Other Live Music
Live music thrives in St. Louis, with many venues featuring indie, underground, local, and national bands. There are many options in and near downtown St. Louis including Old Rock House , Venice Café , Off Broadway , and Plush. For a livelier, interactive experience, head to The Jive & Wail dueling piano bar on Washington Avenue. The Dubliner on Washington Avenue and McGurk's in the Soulard neighborhood both feature live music in an Irish bar setting.
Dancing
Many of St. Louis's best nightlife venues are centrally located in downtown St. Louis. A few of the hottest places are Europe Night Club and Fusion. If you're looking to tryout your salsa moves, head to Club Dantes , or the venerable Club Viva.
Lounges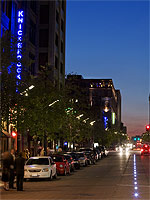 The city abounds with ultra lounges featuring well-versed mixologists and great beats. Some top picks include the rooftop Mandarin in the Central West End neighborhood, and in downtown St. Louis, The Pepper Lounge, Shiver Vodka Bar and Champagne Lounge, and Thaxton Speakeasy.
Gay and Lesbian
The epicenter of gay and lesbian nightlife is centered on Manchester road in The Grove neighborhood, west of downtown. This strip features many blocks of gay and lesbian bars and clubs all within a walkable area. The top locales are Erney's 32 Degrees Vodka Bar , Just John , Novak's Bar and Grill , Honey , and Rehab Lounge.
Relaxed Ambiance
If you're looking for a night out but in a calmer environment, you're in luck. Some of the best places to head to sip on great cocktails and wine include Brennan's/Maryland House in the Central West End, Sasha's Wine Bar in the Tower Grove neighborhood, and unique venues like Bailey's Chocolate Bar in Lafayette Square and Bar Italia (featuring an international night every Thursday).
---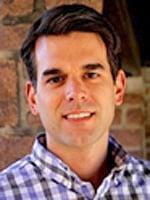 Ryan Saale is the Local Arrangements Committee (LAT) communications chair for NAFSA's 2013 Annual Conference & Expo. Ryan is a St. Louis native who spent time living, studying, and working abroad in Argentina, Chile, Mexico, and Spain, and recently completely his master's degree at Washington University in St. Louis. He began his career in international education in 2009 after working in corporate communications for five years, both in St. Louis and Santiago, Chile. Ryan is assistant director of international affairs at Fontbonne University where he is responsible for all international student recruitment and global outreach initiatives.