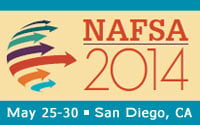 As they develop regulations, policies, and practices that affect international education, Student and Exchange Visitor Program (SEVP) officials need to hear from international educators about the important trends in international education and current issues affecting your institution and your work.
An open meeting at the NAFSA 2014 Annual Conference will provide you the opportunity to meet with SEVP Director Lou Farrell, share this information with him, and ask him questions:
Discussion of Trends and Issues in International Education with SEVP Director Lou Farrell
Thursday, May 29
11: 00 a.m.-12:00 p.m.
San Diego Convention Center Room 29ABCD
I hope you'll take advantage of this opportunity. Please come prepared with a list of trends and issues. Specific cases and practice questions will not be addressed.
Need a boost to start your brainstorming? The Homeland Security Academic Advisory Council (HSAAC) is also considering these trends and issues. You might have a look at the NAFSA DHS Regulator Practice Liaison and Advocacy Priorities that have helped inform NAFSA CEO Marlene Johnson's work on HSAAC.