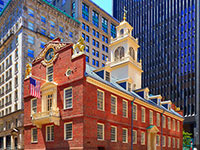 If you have the opportunity to arrive in Boston before the NAFSA conference starts, there will be plenty of things for you to see and do over the Memorial Day weekend. Here are a few suggestions:
Visit the Massachusetts Military Heroes Garden of Flags. Come see an amazing display of 37,000 American flags on the Boston Common. Each flag represents one of the Massachusetts service members who have given their lives for their country, dating back to the Revolutionary War.
Attend the Memorial Day Parade in Cambridge. Enjoy the sights and sounds of Harvard Square as you line up to see the parade go by. The parade will start with a cannon salute at 9:30 a.m. on the Cambridge Common.
Remember our heroes as you listen to a free concert. Honor & Tribute, Boston's second annual Memorial Day concert, will take place at Christopher Columbus Park from 7:30 p.m.-9:00 p.m., with performances by the Metropolitan Wind Symphony Orchestra and the Boston Children's Chorus.
Get lost in the arts. Boston's Museum of Fine Arts is offering free admission on Memorial Day between 10:00 a.m. and 4:45 p.m. View treasures from Ancient Nubia, master drawings from Leonardo da Vinci, and a beautiful display of contemporary Latin American works.
Join the crowd at the City Hall Plaza for the Boston Calling Music Festival. This three-day, two-stage festival features over 20 artists including Krill, Beck, and the Pixies. Affordable tickets are still available.
Take me out to the ballgame. The Red Sox are in town! With many Bostonians heading out of town for the weekend, tickets are still available for games on May 21 through May 24 against the Texas Rangers and then against the Los Angeles Angels of Anaheim.
Shop the sales. This is the time of year that many of the boutiques on Newbury Street and in the Prudential Mall are offering big sales. Great discounts can also be found outside of the city at the outlets. Two major outlet malls, Wrentham Village in Wrentham, MA, and the Premium Outlets in Merrimack, NH, are both about a 90-minute drive from Boston.
---

Clare O'Brien is the Local Arrangements Team (LAT) communications chair for the NAFSA 2015 Annual Conference & Expo. Originally from Buffalo, New York, Clare has lived in the Boston area for more than 20 years. She spent close to 10 years overseeing international student advising and study abroad at Fitchburg State University in Fitchburg, Massachusetts, and worked as an international educator in Wisconsin, New York, and Massachusetts while she earned both her master's and doctorate degrees. Clare currently works part-time as an international education consultant where she has assisted several local universities and third-party providers. She is also coediting an anthology of short stories titled From Bangkok to Boston: Inspiring Stories of Travel and Adventure from International Educators.