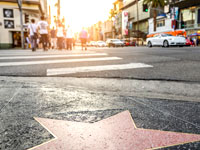 Hello fellow NAFSA 2017 attendees! The conference is only days away at this point. I hope you are as excited about attending as I am about welcoming you to Los Angeles. Many of you will start making your way to southern California later this week or early next week. Here are some last-minute tips for a smooth arrival.
Navigating Los Angeles International Airport
Some colleagues pointed out that transportation options at Los Angeles International (LAX) airport can be confusing. Hence, I would like to point out some important locations:
Arrivals Level Lower Roadway: Most transportation waiting areas are on the lower/arrivals level. This includes taxis, rental car shuttles, SuperShuttle, and the Flyaway service to Union Station.
Departures Level Upper Roadway: Lyft and Uber services are on the upper/departures level. The meeting points are marked with the "Ride Service Meeting Point" sign below. Passengers request a ride once on the curbside. Make sure to confirm that you are getting into the correct vehicle. Learn more about ride share services at LAX.
Weather
As promised, your days will be filled with sunshine! According to Weather.com, the highs will be in the mid-to-upper 70s Fahrenheit. Don't forget a light sweater or cardigan as temperatures drop in the evening. Check out the 10-day weather forecast.
Attractions
Did you receive last-minute approval to attend the conference? Still unsure of where to spend your free time? Here are some ideas.
Blogs: We Like L.A. publishes a weekly and daily list of things to do in Los Angeles. Also, I just discovered the LA Girl lifestyle blog. Intended audience is millennial women in Los Angeles, but it highlights some places that everyone can enjoy.
Topanga Days 2017: The Topanga Days County Fair will take place on May 27, 28, and 29. The fair features vendors, live music, family-friendly activities, and a parade. Single-day tickets are $25 for adult non-members, $15 for all kids, or purchase a three-day pass for $40 while still available.
KCRW Summer Nights: On June 3, enjoy free live band performances and KCRW DJ sets featuring Chico Mann and Captain Planet and Marion Hodges in Pasadena. The event is free and family friendly. Visit the KCRW website for more information.
What to Bring
Los Angeles boasts of diverse scenes and landscapes. In my opinion, your suitcase should reflect the same diversity: bring comfortable clothes and shoes for outdoor activities; a nice outfit for social or entertainment outings; and business casual clothing for the conference. Options are key! Don't forget the sunscreen and your favorite pair of sunglasses.
I am looking forward to meeting you all. Stop by the hospitality booth to say hello. I will be staffing several shifts.
Safe travels and see you soon!
---

Kelly Zuniga is J-1 exchange visitor counselor at the University of California-Los Angeles and the Local Arrangements Team (LAT) communications chair for the NAFSA 2017 Annual Conference & Expo.