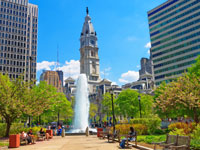 It is time for some Philadelphia geography! To keep up with the locals, it is essential you become familiar with the basic layout of this city and some of its eclectic and diverse neighborhoods.
Philadelphia is laid out almost entirely on a grid system and is situated between two rivers: the Delaware to the east and the Schuylkill to the west. City Hall is located in the center of the city with two main streets intersecting: Broad Street, which runs north-south, and Market Street, which runs east-west. Thus, many locals use those indicators to describe locations when describing many Philly neighborhoods.
Center City
Center City is the hub for all things "big city," including skyscrapers, great shopping, and various high-end restaurants. There is a lot to explore downtown, and City Hall is right in the middle. This ornate building was completed in 1901 and was the tallest in Philadelphia until 1986 when One Liberty Place opened (home to an awesome observation deck at the very top!). Atop City Hall stands a 38-foot-tall statue of William Penn. In 1986, when City Hall was no longer the tallest building, it is said that a curse fell upon the city's sports teams.
Many attempts were made to reverse the curse, including dressing Penn in team jerseys and hats. It was not until 2008 that the curse was broken when the Philadelphia Phillies won Major League Baseball's World Series, only a year after a smaller Penn statuette was affixed to the top of the Comcast Center, which at that time was the city's tallest building. In November 2017, the city's newest skyscraper, the Comcast Technology Center, was built and yet another Penn statuette was placed on its tallest beam. Months later, the Philadelphia Eagles clinched the National Football League's Super Bowl title. Many Philadelphians take the curse very seriously, and you can bet the next time a skyscraper is erected in Philadelphia, William Penn will be placed at the top.
Center City is also the location of many college and university campuses, including University of the Arts, The Art Institute, and Thomas Jefferson University.
Neighborhoods East of Broad Street
Here are some of the city's most popular neighborhoods east of Broad Street and their must-visit attractions. While there are many more smaller residential neighborhoods, the neighborhoods listed below are the most popular among visitors and non-residents.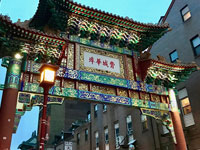 Chinatown
Chinatown is directly next to the convention center and hosts tons of delicious restaurants, supermarkets, and stores from many different Asian cultures. Visitors are transported to a whole new culture within Philadelphia, complete with hidden gems and hole-in-the-wall hotspots. In addition to amazing restaurants and bubble tea cafes, don't miss these attractions;
Chinese Friendship Gate
Reading Terminal Market
African American Museum
Old City
As the name suggests, Old City is the most historic area of Philadelphia. Boasting the birthplace of independence and untouched 18th-century charm, you will still find cobblestone streets and brick front building dating back to the American Revolution. Don't miss these attractions:
Independence Mall
Liberty Bell
Elfreth's Alley (oldest inhabited road in America)
Christ Church (burial place of Ben Franklin)
Delaware WaterfrontSpruce Street Harbor Park
Northern Liberties and Fishtown
Just north of Old City is both Fishtown and Northern Liberties. These neighborhoods have seen expansive growth in recent years. Now heavily populated with young Philadelphians, artists, and students, these neighborhoods have transformed, welcoming many bars, restaurants, and nightlife options. By day, the streets are lined with window shoppers against a backdrop of murals and street art. Be sure to check out:
Johnny Brenda's
Frankford Hall
Bottle Bar East
Garage
North Bowl
Revolutions
Green Eggs Cafe
Yard's Brewing Company
Neighborhoods West of Broad Street
Spring Garden and Fairmount
Both of these neighborhoods serve as hubs for religious and educational institutions in Philadelphia and boasting multiple museums, antique and contemporary, in addition to quaint row homes and sought-after eateries.
Eastern State Penitentiary
Philadelphia Museum of Art
Rodin Museum
Perelman Building
Barnes Foundation
Fairmount Park
Schuylkill River Trail
Rodeph Shalom Synagogue
Boathouse Row
Rocky Statue
University City
Directly across the Schuylkill river from Center City is University City, home to Drexel University and the University of Pennsylvania. This neighborhood is a hub for renowned medical innovation, cultural diversity, and youthful artistry.
World Cafe Live
Penn Park
Metropolitan Bakery
City Tap House
Clark Park Farmers Market
Institute of Contemporary Art
North Broad Street
If you head north from Center City on Broad Street, you will find yourself right in the middle of Temple University. The Temple campus has continued to aid in the revitalization of the North End of Broad Street and development continues with brand-new apartment complexes like the recently transformed Divine Lorraine Hotel.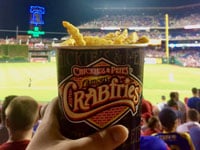 South Broad Street
Taking Broad Street south you will end up at the stadium complex, home to all Philadelphia sports teams and the Xfinity LIVE Center. Xfinity LIVE has become a Philly sports fixture with its multiple bars and Philly favorite food stands like Chickie & Pete's (you need to try their "crabfries"- french fries with Old Bay seasoning) all under one giant roof.
---
Hailey Gouza is the university relations coordinator and marketing assistant for the Mid-Atlantic region at Barcelona Study Abroad Experience (Barcelona SAE) and Local Arrangements Team (LAT) communications chair for the NAFSA 2018 Annual Conference & Expo.