St. Louis is all about neighborhoods. Statistically our city is subdivided into 79 neighborhoods, many with distinctive architecture, subcultures, and preferences. This is good news for visitors, as you can find an area that suits your style. Whether it's bohemian, upscale, artsy or urban, you'll discover a place to call home while at NAFSA. To make things easier, I've identified the top areas to check out that are near the conference.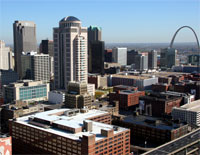 Downtown St. Louis
From its days as the twentieth century epicenter of St. Louis' garment and shoe manufacturing district,  downtown St. Louis is now a large central business district with a vibrant entertainment scene and thriving loft district. The best place to walk around for shopping, dining, and entertainment options is Washington Avenue. Newcomers to the strip include: Takaya Sushi, Robust Wine Bar and Pi Pizzeria. For some fun, check out Flamingo Bowl for bowling, or MX Cinema for movies.
Central West End
More European than Midwest, the Central West End neighborhood is an upscale area featuring beautiful, turn-of-the-century architecture with many dining, shopping, and entertainment options. Don't miss a walk down Euclid Avenue, where you can grab lunch, dinner, or simply sit on a patio and people watch.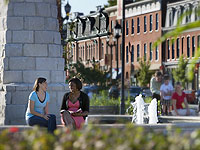 Lafayette Square
This historic enclave features an impressive collection of "painted ladies," a set of well-preserved Victorian homes, many of which surround Lafayette Park. Around the park, you'll find great restaurants, fine dining, wine bars, and coffee shops for urban clientele seeking a more tranquil environment. Notable locales include Bailey's Chocolate Bar, 33 Wine Bar, SqWires Restaurant, and Vin de Set (a rooftop bistro with great views of downtown).
The Loop
Anchored by Delmar Boulevard and named after the street's status as a trolley turnaround point, The Loop is now a vibrant, eclectic neighborhood with many ethnic restaurants, unique shops, and eccentric personalities. Here you can see Chuck Berry's statue, stroll the St. Louis Walk of Fame, and hear street music.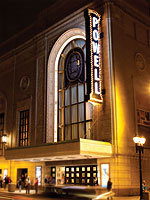 Grand Center
St. Louis' central arts district is home to many cultural institutions. Here you will find the Fox Theatre, an impressively designed theater hosting Broadway shows, Powell Hall, home to the acclaimed St. Louis Symphony, and many art galleries and museums including The Contemporary Art Museum of St. Louis and the David Bruno gallery. Head to Café Pintxos at Hotel Ignacio for breakfast all day or check out the Fountain on Locust to savor a traditional American soda shop.
South Grand
Authentic international eateries line this strip of Grand Boulevard and sit comfortably with neighboring wine bars, ethnic groceries, and vintage shops. Thai and Vietnamese cuisines reign supreme here, including one of my favorite restaurants, Pho Grand. You'll also find the chic Italian dessert cafe Gelateria del Leone, and the very quaint Café Natasha, serving Persian food. Driving to the area? Don't miss Tower Grove Park, an elegant nineteenth century walking park at the north entrance to South Grand.
Soulard
One of St. Louis' oldest and most well-preserved neighborhoods, Soulard is a great area to visit for capturing pictures, grabbing lunch, or walking around. Soulard is home to the Anheuser-Busch Brewery and the St. Louis Mardi Gras, considered the second largest Mardi Gras celebration in the United States. To take part in the area's good times try McGurk's Irish Pub and Garden, known for its extensive patio and live Irish music.
Which neighborhoods will you visit when you're in St. Louis?
---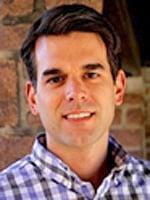 Ryan Saale is the Local Arrangements Committee (LAT) communications chair for NAFSA's 2013 Annual Conference & Expo. Ryan is a St. Louis native who spent time living, studying, and working abroad in Argentina, Chile, Mexico, and Spain, and recently completely his master's degree at Washington University in St. Louis. He began his career in international education in 2009 after working in corporate communications for five years, both in St. Louis and Santiago, Chile. Ryan is assistant director of international affairs at Fontbonne University where he is responsible for all international student recruitment and global outreach initiatives.