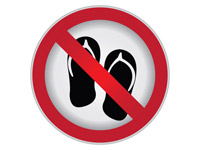 At the NAFSA 2015 Annual Conference in Boston, MA, I will serve as a résumé reviewer in the Expo Hall. Below, I share my insights on planning for the conference experience, tips that were adapted from an article I published on LinkedIn.
Through the years, I have attended and worked at a number of national conferences. I have seen the good, the bad, and the horrible. Preparation and professionalism are the keys to a successful networking experience; thus, heading into a conference in jeans and flip flops, hoping to grab a few stress balls from the exhibit area and hang out around the food table will not work. You will not be able to network this way. Period.
Instead, consider these strategies ahead of your conference experience.
Do your homework. Obtain a list of the conference workshops, events, and programs in advance. Google or use LinkedIn to find out more about the speakers. Review the list of professionals attending and note whom you would like to meet.
Create a priority list. Decide which opportunities interest you the most, and which programs you might like to attend if you have the time.
Prepare your elevator speech. Be ready to tell other professionals who you are, what your major accomplishments are (projects, assignments, professional experiences), and generally what professional areas interest you. Practice this speech a couple of times.
Be the professional. Ask seasoned professionals what you should wear to the conference and be prepared to dress one level higher than their description. Get a haircut, if needed. Update your résumé. Make sure your LinkedIn profile is up to date and download their app so that you can connect to it from your smartphone. Put business cards in your pocket. Download an app for your smartphone that scans business cards for easy reference later. Finally, look in the mirror each morning before you leave your hotel room and make sure you look neat and professional.
That's how you prep for a productive conference.
Interested in getting your résumé reviewed? There will be walk-in appointments available Tuesday, May 26 through Thursday, May 28 at the Career Center located in the Expo Hall. Please bring a copy of your most up-to-date résumé with you.
---
Carol Crosby is Assistant Director in Career Services at Bridgewater State University. She has also worked in the field of student affairs at Wesleyan University, University of Connecticut, and Brandeis University. Collectively, her experience in career counseling has spanned over 12 years. In 2013, she received a Fulbright grant to visit career services offices in universities across Germany and is currently working with the Ministry of Education in Belize on career development modules for at risk students. She received her M.S. in College Student Personnel from the University of Rhode Island and her B.A. in English from Wheaton College in Norton, MA.