Greetings international educators! For those of you planning to come explore San Diego a little early, or to stick around the weekend after the conference, this blog post is for you! If you are someone who prefers wines and a sophisticated nosh, you can head north of San Diego to check out Southern California's wine region near the town of Temecula. More adventurous individuals fancying mariachis and margaritas can consider crossing the border to take in the sights and sounds of Tijuana, while baseball fans should not miss heading over to Petco Park to cheer on the Padres!
Exploring Wine Country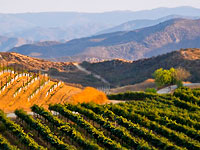 Just 60 miles north of San Diego up Interstate 15 lies Temecula Valley Wine Country, the heart of California's South Coast wine region. Rolling hills covered with vineyards, expansive views reaching to 11,000-foot-high mountains, and world-class wines make Temecula Valley Wine Country a terrific day trip for visitors to sunny San Diego. The unique Temecula microclimate and well-drained granite soils are famous for producing award-winning California wines. Information about Temecula's winery tours and tastings can be found by visiting Temecula Valley Winegrowers Association.
¡Viva Mexico!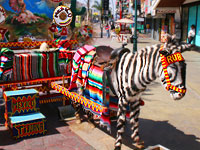 The easiest way to explore Tijuana is by taking the San Diego Trolley's blue line to San Ysidro and walking across the border. Every visitor who plans to return to the United States must have a passport. A passport card will also work for U.S. citizens. If you are from a country that requires a visa to enter Mexico, you must be mindful of the immigration rules concerning your country and Mexico. As soon as you walk across the border, there is colorful shopping and dining within a half-mile radius. It is recommended to not venture too far beyond this area and Revolucion Avenue, which is the main tourist drag. While you must use your street smarts when visiting Tijuana, it can be a fun adventure for San Diego visitors wanting a little Mexican experience. ¡Viva Mexico!
Take Me Out to the Ballgame!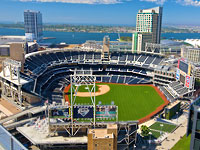 Directly across the street from the San Diego Convention Center is Petco Park, which opened in 2004 and was quickly coined "The World's Best Ballpark in America's Finest City." For NAFSA baseball fans, the San Diego Padres will be playing the Chicago Cubs at Petco Park the week leading up to the conference. Game time is at 7:10 p.m. on Thursday, May 22; Friday, May 23; and Saturday, May 24. Sunday, May 25, game time is at 1:10 p.m. Tickets range from $18-$111.
San Diego Symphony
For NAFSA classical music lovers planning an early visit the weekend before the conference, the San Diego Symphony will be featuring famed Belgian Russian violinist Vadim Repin. Concerts are at 8:00 p.m. on Friday, May 23 and Saturday, May 24 and at 2:00 p.m. on Sunday, May 25. Located at Copley Symphony Hall, conducted by Jahja Ling, this concert will include Weber's Overture to Oberon, Prokofiev's Violin Concerto No. 2 in G minor, Op. 63, and Brahms' Symphony No. 1 in C minor, Op. 68. Ticket prices range from $20-$96.
---

Bradley Moon is the Local Arrangements Team (LAT) communications chair for NAFSA's 2014 Annual Conference & Expo. Bradley was born and raised in Des Moines, Iowa, and spent a number of years living, studying, and working abroad. He earned his master's degree from Hawai`i Pacific University in Honolulu and began his higher education career in in 2005 after touring with Cirque du Soleil throughout Europe and North America. Moon is currently the assistant director of international recruitment and communication at San Diego State University, having worked for Hawai`i Pacific University and the University of Hawai`i – Leeward Community College.