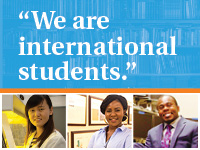 As we approach the end of 2018 and focus on planning for both a new year and a new Congress, I would like to take a moment to reflect on the progress NAFSA has made to defend international students and scholars. Facing new international student enrollment declines and the harmful, anti-immigrant and anti-global policies and rhetoric from the Trump Administration, NAFSA launched a new campaign earlier this year. The goal of this multi-year campaign is to improve and strengthen key policy makers' opinions and understanding of international students and scholars so that they defend them in times of crisis. Since that time, our NAFSA policy staff and member advocates from around the country have worked hard to share the benefits international students and scholars bring to our campuses and communities.
Thanks to this impressive work, members of Congress from both political parties have increasingly acknowledged the negative headwinds international students and scholars currently face to study in the United States. At least 62 members of Congress have spoken out in defense of international students and scholars in the past year, sending a message that many leaders in the United States still value international education.
Below are a few highlights of what we have achieved to date through our work together on the campaign:
NAFSA dedicated a webpage for important regulatory updates accessible from our home page. Our regulatory practice team continues to provide our members with important information about changes in the regulatory environment.
Nine members of Congress tweeted their support for international students in 2018, including Republican Senator Portman (OH) and Democratic Senators Markey (MA), Feinstein (CA), Whitehouse (RI) and Representatives Quigley (IL-05), Bonamici (OR-01), Bustos (IL-17), Lujan Grisham (NM-01), and Peters (CA-25).
A bipartisan group of members of Congress submitted official statements for the record that reflect their commitment to making international students and scholars feel welcome in the United States. These members include:
Working in collaboration with international educators, the NAFSA Public Policy team has developed stories of nineteen international students & scholars from around the United States. Advocates share these stories with members of Congress via social media, in meetings on Capitol Hill, and in-district meetings to provide real-life, concrete examples of how international students and scholars contribute to the United States. You can view all of these stories on the NAFSA website.
Three congressional sign-on letters quoted NAFSA data:

Rep. Colleen Hanabusa (D-HE-01) sent a letter to Commerce Secretary Wilbur Ross expressing concern over allegations that the U.S. Commercial Services had been directed to reduce its services for international education. This letter was signed by a total of fifteen Representatives.
A letter spearheaded by Representatives Pramila Jayapal (D-WA-07) and Judy Chu (D-CA-27), sent to Secretary of State Mike Pompeo, expressed concerns regarding visa policy changes affecting Chinese students in certain STEM fields. This letter was signed by seventeen Representatives.
Finally, a third letter written to Francis Cissna, Director of U.S. Citizen and Immigration Services (USCIS) was led by Senators Patty Murray (D-WA) and Dianne Feinstein (D-CA) and signed by eighteen Senators requested that he rescind the new unlawful presence policy that puts international students at risk.

Additionally, a separate letter signed by nineteen Senators to Homeland Security Secretary Nielsen outlined the adverse side effects of the many negative immigration policies spearheaded by the Administration and specifically noted the decreasing international student enrollment.
NAFSA's Deputy Executive Director for Public Policy Jill Welch testified on June 6th at a hearing on "Student Visa Integrity: Protecting Educational Opportunity and National Security." During the hearing, all of the participating Senators and witnesses articulated their support for international students, including Senate Majority Whip John Cornyn (R-TX) who specifically said, "I am not interested in restricting student visas."
Through a collaboration with the Presidents' Alliance on Higher Education and Immigration, NAFSA has been able to secure two op-eds by university presidents:
Additionally, NAFSA collaborated with StudyColorado and assisted the head of the organization Inta Morris in publishing an op-ed in The Colorado Independent on September 18, 2018: "12,000 international students are studying on Colorado's college campuses. We welcome them."
Finally, among the many articles written about the impact of the travel ban, Bennington College President Mariko Silver was published in Forbes on July 7, 2018 with a commentary on supporting international students given the impact of the travel ban: Travel Ban Hurts U.S. College Students Too.
I am pleased to see so many members of Congress speaking out in support of international students and scholars, but this is just the beginning. As we look ahead to 2019, we know that the next wave of policies could seriously damage our ability to compete for and welcome students from around the globe. In order to reduce this risk, and to more firmly establish a positive narrative and understanding of international students, we must continue the work of NAFSA's International Student and Scholar campaign. In our field, we know the many cultural and economic benefits international students and scholars bring to our campuses and communities. With your help, I hope to see even more policymakers recognize the value of international education and use their position to counter anti-immigrant rhetoric and policies. I encourage you to participate in the campaign by taking the following actions:
This time of year, I am grateful for the tireless work of our advocates to defend international students and scholars. I look forward to seeing what we can accomplish together in the new year.