While visitors to San Diego flock to the sunny beaches that line the Pacific coast, not to be overlooked are San Diego's distinct urban neighborhoods, each with its own personality and panache.
Pay close attention to these neighborhoods, as my upcoming "It's Five O'clock Somewhere" post will highlight the best places to happy hour throughout San Diego's neighborhoods.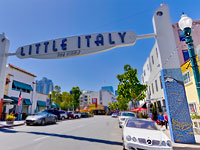 Little Italy
Once home to San Diego's flourishing tuna fishing industry where Italian families made their living on the sea, Little Italy is a quaint and lively neighborhood filled with patio cafés, restaurants, pubs, art galleries, shops, hotels, and the beautiful Amici Park. India Street is lined with restaurants featuring cuisines of bo th Southern and Northern Italy, and on Saturday mornings, it comes alive with one of the best Farmer's Markets in Southern California.
Beyond gelato and pasta, Little Italy is also home to some unique local boutiques and the Kettner Art & Design District, where you can find unique art, home furnishings, jewelry, and fashionable vintage home décor shops. Little Italy is easily accessed on the San Diego Trolley from the San Diego Convention Center.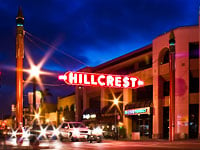 Hillcrest
To the north of Balboa Park is a unique neighborhood in the heart of San Diego. Famous for its one-of-a-kind and welcoming joie de vivre, Hillcrest is the center of San Diego's LGBT community. With an energy all its own, Hillcrest's streets are lined with 1950's-style storefronts, colorful awnings, rainbow flags, boutiques, salons, thrift stores, and restaurants and bars to suits all tastes.
Many popular dining, drinking, and shopping hot spots in Hillcrest are concentrated in "The Village" area that runs along University Avenue, between Fourth and Fifth Avenues; however, there are plenty of hidden gems scattered throughout the streets of this colorful neighborhood. Not to be missed is the "Before I Die" chalkboard on the corner of University and Richmond Street!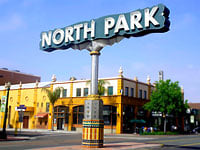 North Park
Surrounding Hillcrest in the Uptown area is North Park, one of the city's popular up-and-coming neighborhoods. If you are looking for an Applebee's and Old Navy, it won't be found here. What you will find in North Park are gentrifying streets of hipsters and young couples with strollers, many sporting mustaches, tattoos, or dresses your grandmother donated to the Salvation Army.
Locally owned award- winning San Diego eateries, offering everything from farm-to-table menus, local craft beer, and whiskey, legendary Mexican outposts, and an elevated burger can all be found on the streets of North Park. One-of-a-kind boutiques line the streets of 30th Street from University to Adams. You'll find plenty of shops to peruse, from art galleries and record shops to retro arcades and yoga studios.
South Park
South Park is a charming and historic city neighborhood at the southeast corner of Balboa Park, up the hill from downtown, between Golden Hill and North Park. Pubs and cafés, boutiques and salons, gifts and ice cream, European markets, and international cuisine are located along Beech Street between 28th and 30th, along 30th and Fern north of Beech up to Laurel Street, and on Juniper between 31 st and Fern.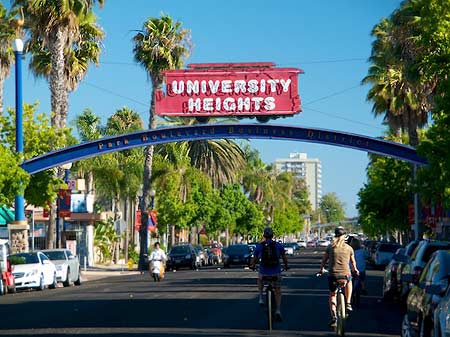 University Heights
Nestled between Hillcrest and North Park is the charming neighborhood known as University Heights. Interesting bars, ethnic restaurants, coffee shops, and trendy brunch spots line Park Avenue between Adams and University. From Persian and Georgian food to farm-to-table and Hawaiian-inspired pupus, urban dwelling foodies flock to University Heights to get their culinary fill.
---

Bradley Moon is the Local Arrangements Team (LAT) communications chair for NAFSA's 2014 Annual Conference & Expo. Bradley was born and raised in Des Moines, Iowa, and spent a number of years living, studying, and working abroad. He earned his master's degree from Hawai`i Pacific University in Honolulu and began his higher education career in in 2005 after touring with Cirque du Soleil throughout Europe and North America. Moon is currently the assistant director of international recruitment and communication at San Diego State University, having worked for Hawai`i Pacific University and the University of Hawai`i – Leeward Community College.