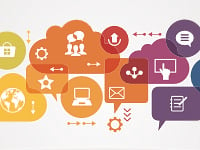 During the course of my time interviewing senior international officers (SIOs), senior education abroad professions, and various recipients of the Education Abroad Knowledge Community Lily von Klemperer (LvK) award, one of the common themes that has emerged is the change in technology they have seen, even in the last 5 or 10 years. These changes have had several interesting ramifications on the field as a whole, as well as these individuals.
One of the most significant has simply been the explosion of the various forms of technology. For many SIOs and LvK awardees, they can still remember a time when Facebook, Twitter, Instagram, and other social media platforms did not exist. They have had to learn to adapt to a crazy new world that relies on these technologies to communicate. Many have been excited about these advances, while others have been reluctant to keep up with the ever-changing demands of these new technologies. This required that they hire younger, more technology-adept professionals in their offices to take on these responsibilities.
A side effect of this has been the development of a noticeable gap between more senior international education professionals and beginning and mid-level professionals, even among those senior officials willing to learn the new technology. The gap is generally marked by intergenerational differences; "millennials" and younger individuals grew up surrounded by technology, while older individuals did not. This has impacted how communication happens within and between offices and individuals, as well as how instructions are relayed, as those accustomed to technology expect to communicate using it while others have traditionally used other means. This requires compromise on everyone's part to communicate effectively in order to be productive and efficient.
The growth of technology has also impacted working with faculty and building international partnerships. Technology has allowed classrooms to connect virtually even across oceans. This has made it possible for more programs, departments, and institutions to expand the internationalization efforts of their curriculum. Not only can students and faculty study and do research in other countries, but they can complete pre- and post-work virtually via technology. Additionally, faculty can co-teach classes with colleagues in other countries, expanding students' knowledge of the subject.
Technology has also allowed the field to respond much more quickly in a crisis. This has been tested recently in Paris and Brussels as providers and institutions needed to determine the whereabouts and the status of hundreds of students in these cities, as well as in the rest of Europe. Social media ended up being one of the fastest methods to reach students as cell phone lines became jammed and e-mails were not immediately responded to.
The world of technology continues to evolve, as many LvK awardees, SIOs, and senior education abroad professionals have indicated. It has had mostly positive implications for the field of international education with the advances in curricular integration, crisis management, and beyond. This rapid growth has required compromises in communication and in learning by everyone in order to continue to be productive and effective in one's job and as an office or institution.
---
Mandy Reinig is the director of international education at St. Mary's College of Maryland where she works with outgoing students in pursuing their study abroad opportunities and serves as the principal designated school official and the alternate responsible officer for the campus.