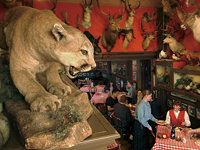 Denver's culinary scene is as impressive as the surrounding snow-capped mountains! From laid-back pubs to upscale restaurants and European-inspired eateries, the city will satisfy everyone's taste buds.
Colorado is known for its Rocky Mountain Oysters (be careful, it's not what you think!) and game such as elk, venison, and antelope. If you want to try typical Colorado dishes, look no further than the Buckhorn Exchange, Denver's oldest restaurant, which is located in the city's oldest neighborhood, just five minutes from downtown. Buffalo, elk, beefsteaks, game hen, pork ribs, and quail are just a few items on the menu. The house specials are Rocky Mountain Oysters and eccentric appetizers such as alligator tail and buffalo sausage.
If you're in the mood for something unique and fun, Avanti Food and Beverage is worth checking out! Located in the Lower Highlands neighborhood, this huge two-story warehouse hosts seven self-contained mini restaurants. Diners can choose from a variety of cuisines, including a torta counter, shwarma shop, and noodle joint, all while enjoying stunning views of downtown Denver. This is one of my favorite spots.
Looking for something organic? The Kitchen is a farm-to-table bistro conveniently located on 16th Street Mall in the historic Sugar Building. This trendy restaurant boasts a seafood bar, small plates menu, and a main menu with selections such as tagliatelle, bolognese, char-grilled salmon and oven-roasted sirloin.
Table 6 is a 50-seat American eatery with a warm and elegant ambiance that makes it great for a quiet lunch or intimate dinner. Menu items include Sloppy Joe sliders and tater tots, duck confit and maple-smoked pork. Their famous Sunday brunch option is the chèvre chantrelle bread pudding. They are known for their extensive wine list, which features exquisite winesfrom all over the world.
I live on a trendy street near downtown called Tennyson and I love the great eats in the area. I'll let you in on a few of the locals' best-kept secrets! If you're looking for authentic Mexican food and a killer margarita, you have to check out El Chingon. The family that owns this cozy restaurant is from Pueblo, Colorado and the owner Lorenzo will always greet you with a warm welcome, a friendly smile, and a tequila shot during any type of celebration. The food is consistently good and the prices are reasonable.
A few blocks up on Tennyson Street, you will find the best pizzeria and craft brew taproom Denver offers, Hops and Pie. This place is packed on Wednesday nights, when they sell $2 craft can beers. They offer a different pizza special everyday—I've had everything from jalapeno, ham, and pineapple to barbeque chicken and red onions. They have my vote for the best pizza in Denver!
Did you know that the first cheeseburger was created in Denver? Although the original restaurant is no longer around, you can still grab a tasty burger at Cherry Cricket! Located in the posh Cherry Creek area, this great spot features a new burger every week and is a great place to take a break from shopping. Watch your favorite sports team here and enjoy the atmosphere.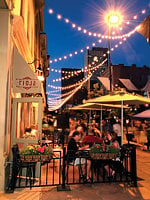 Craving seafood? Jax Fish House & Oyster Bar, conveniently located downtown on 17th street, is my favorite seafood joint. Enjoying their daily, fresh selection of oysters, salmon, shrimp, and crab cakes, it's hard to believe that you're in a landlocked state!..
Rioja, voted by many as the best restaurant in Denver, will not disappoint. Celebrity chef Jennifer Jasinki's transformation of Larimer Square started here. This Mediterranean-themed restaurant is known for its varied and rotating specials, homemade pasta, brunch menu, and outstanding pastries by chef Eric Dale. Dale's award-winning doughnuts have earned spots on several nationwide best of desert lists.
---

Michele Friedmann is the Local Arrangements Team (LAT) communications chair for the NAFSA 2016 Annual Conference & Expo. Michele was born and raised in Reading, Pennsylvania. She attended Gettysburg College where her love for study abroad began. Michele spent a semester in Australia, circumnavigated the globe on Semester at Sea, and student taught in London. Michele earned a master's degree from the School for International Training in the area of international education. She interned for Barcelona SAE as a program and student adviser. She has worked for the Institute of International Education and the Fulbright Foreign Student Program. Michele is currently the student and program manager for Global Players, a study abroad program geared toward student athletes.