Bryan Stevenson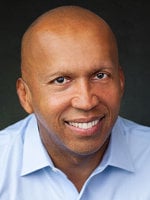 Bryan Stevenson is a visionary legal scholar, advocate, and champion for social justice. He is the founder and executive director of the Equal Justice Initiative, an organization committed to fair and just treatment for all people in the U.S. legal system.
As an attorney, Stevenson has successfully argued cases in the United States Supreme Court. The Equal Justice Initiative recently won a historic ruling in the United States Supreme Court holding that mandatory life sentences without parole for all children 17 or younger are unconstitutional. Stevenson also leads multiple nationwide efforts against poverty, mass incarceration, and racial inequality.
A MacArthur Fellow, Stevenson serves on President Obama's recently formed task force on twenty-first-century policing. He is the author of the New York Times best seller, Just Mercy: A Story of Justice and Redemption—named one of TIME magazine's Top 10 Nonfiction Books for 2014.
Videos from NAFSA 2016
Exclusive Interview
Plenary Excerpt