Champion for Girls' Education Access Shiza Shahid to Speak at 2015 Annual Conference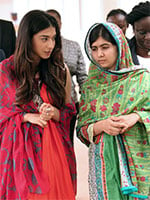 Even before she left a promising career to support the work of Nobel Laureate Malala Yousafzai, Shiza Shahid was a global advocate for educational access.
As an international student at Stanford University, Shahid was shocked by reports from her native Pakistan that young girls in the Swat Valley were being barred from attending school as a result of violence and intimidation by the Taliban. Shahid took action, helping found a weeklong camp in Islamabad to encourage and strengthen the girls' aspirations for a quality education.
"When women and girls are given equal access to education, we all benefit," says Shahid.
After graduating from Stanford, Shahid went to work as a business analyst at McKinsey & Company in the Middle East, but left in 2012 after Yousafzai, a friend and former camp attendee, was shot by the Taliban in retaliation for her campaign for girls' education. Shahid rushed to the United Kingdom to be with "little Malala" as she fought to recover from her injuries.
As worldwide condemnation of the attack grew, Shahid joined with Yousafzai to establish the Malala Fund, an organization dedicated to amplifying the voices of girls throughout the world and advocating for access to quality education for all girls. In May, Shahid will bring her story of strength, hope, and equality to the NAFSA 2015 Annual Conference & Expo in Boston, Massachusetts. The cofounder and ambassador of the Malala Fund will address conference attendees on May 27, 2015, at 4:00 p.m., during the Wednesday plenary session, sponsored by Southern New Hampshire University.
"I am honored to speak at NAFSA's annual conference and be with the thousands of educational professionals who are making such an important contribution to citizen diplomacy," says Shahid. "International education is critical to fighting global poverty. International education and exchanges are such compelling foreign-policy tools to foster the kind of shared experience needed for a more peaceful world."
Learn more about Shiza Shahid and the 2015 Annual Conference.