Purchase A Booth at NAFSA 2019
Exhibiting at NAFSA 2019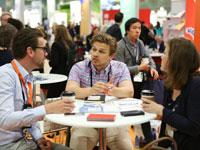 Learn essential information about purchasing exhibit space at the NAFSA Annual Conference & Expo. Preview booth options, reserve a booth, submit payment, and learn important deadlines for exhibiting at NAFSA 2019 in Washington, D.C.
View the NAFSA 2019 Exhibiting and Sponsorship Prospectus to explore the Washington D.C. Convention Center floor plan as well as the many sponsorship opportunities to elevate your brand and reach across NAFSA's Annual Conference attendees.
Floor Plan
Preview booth options and select the prime booth location with the NAFSA 2019 Interactive Floor Plan. Available booths are shaded in grey. Black rectangles and squares indicate columns within the Expo Hall. Multi-booth configuration requests should be sent to [email protected] prior to booking a booth.
Booth Pricing
All booth prices listed in United States Dollars (USD).
| | |
| --- | --- |
| Booth Category | Regular (After Sept.1, 2018) |
| 10'x10' Premium Booth | $8,975.00 |
| 10'x10' Corner Booth | $7,625.00 |
| 10'x10' Aisle Booth | $6,215.00 |
Use NAFSA's Exhibit Booth Price Calculator to receive an estimate for your booth purchase. Premium booths are marked with the letter "P" within the floor plan. Hanging signs require a minimum booth size of 20'x20' (400 sq ft.) and are an additional rental cost.
Benefits
Learn about the benefits of your booth purchase in the What's Included in My Booth Purchase resource.
Sales Schedule
Sales before September 1, 2018
Mid April - Late May, 2018
Global Partner Tiered Sales opening**
50% payment due at signing*
July 1, 2018
Global Partner early cancellation deadline
50% payment due to avoid cancellation
July 16, 2018
Sales open to public
50% payment due at signing*
Sales after September 1, 2018
September 1, 2018
NAFSA 2019 price increase
50% payment due at signing*
January 25, 2019
Exhibitor tasks and full payment due
Contracts paid in full
Sales after January 25, 2019
January 25, 2019
Full payment due at signing
100% payment due at signing*
March 4, 2019
Deadline for new rental inclusion in printed conference materials
100% payment due at signing*
** See the extended 2019 Sales Calendar for tiered Global Partner sales dates.
*Payment due at signing with credit card payment. Payable within 30 days if paying by check or wire transfer.
Methods of Payment
NAFSA accepts payment by credit card, check, and wire transfer (international exhibitors only) for booth space contracts
50% Deposit Required
If paying by credit card, a 50% deposit is due at time of rental within the Booth Sales Portal. Payments by check or wire transfer must be submitted to NAFSA within 30 days of booking.  
Full Booth Payment
Exhibitors may pay their full booth balance at anytime with a credit card online within the Booth Sales Portal.
Questions About Your Booth Purchase?
Check out the Exhibitor FAQs to assist with any questions about purchasing a booth
For additional inquiries, or to talk to a NAFSA Exhibits team member, email [email protected]
Cancellations and Refunds
Cancellation of exhibit booth space must be in writing and postmarked by the cancellation deadline of March 8, 2019. Deposits are nonrefundable, regardless of the date of cancellation. Cancellations are subject to a liquidated damages payment of 75% of the total exhibit booth rental because of the difficulty of determining and proving NAFSA's actual losses. There will be no refunds for cancellations received after 5:00 p.m. on March 8, 2019 (Eastern Daylight Time). No shows shall be treated as cancellations. Upon cancellation (including no shows), NAFSA has the right to resell the space and retain all revenue collected.