Reasons You Must Attend the Conference
The NAFSA Annual Conference is the place to connect with more international education professionals than you'll find at any other conference in the world. Don't miss this opportunity to join NAFSA for the ultimate event in the field of international education.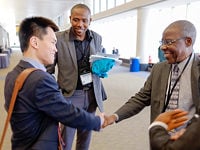 "The NAFSA Annual Conference is a unique blend of information gathering, networking, professional development, and learning about the world of international education. The vast services and information available through the conference will help lead me and my team in the year to come."
~ Tisa Thompson, Central Michigan University Global Campus
Partnerships
Explore new partnership opportunities with institutional decisionmakers and influencers.
"I have never been to such a well-coordinated event with so many different countries and institutions represented. The scope of the networking opportunity here is unparalleled."
~ Bobbi Hartshorne, Global Student Accommodation Group
Educational Offerings
Over 200 sessions and workshops, 15 poster fairs, and numerous guest speakers offer value for all learning styles and schedules. The breadth of education covered during the conference include best practices, data-driven insights, and trends that give your institution a competitive advantage in an increasingly globalized world.
"The NAFSA Annual Conference is the one event where I can learn something new every day from colleagues I have known for more than 15 years of being in this field."
~ Lin Larson, University of California-Berkeley
Personal Connections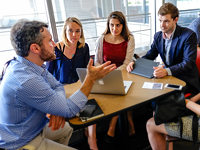 Meet with established partners and make new connections around the world in just one week. Visiting the Expo Hall and attending sessions, open meetings, and networking events give you access to colleagues and leaders from every facet of international education.
"This was my first national NAFSA Conference, so of course, I was nervous. However, NAFSA felt so natural- the colleagues I met were so like-minded, the sessions I attended were the epitome of why I am in the international education field, and the networking events were just what I needed to establish my name. This was the best investment I could have possibly made!"
~ Monica Dugo, SIT Graduate Institute
You should attend if you...
Lead or advance internationalization on your campus
Work in or support any aspect of an international education office
Advise or support study abroad students or international students and scholars
Develop or maintain partnerships for your institution
Integrate a more global perspective into the curriculum
Provide services or products that support the field of international education
Are a volunteer working with international students or scholars in your local community
Want to make international education your career
Wish to expand your network of international educators