2022 Region III NAFSA Conference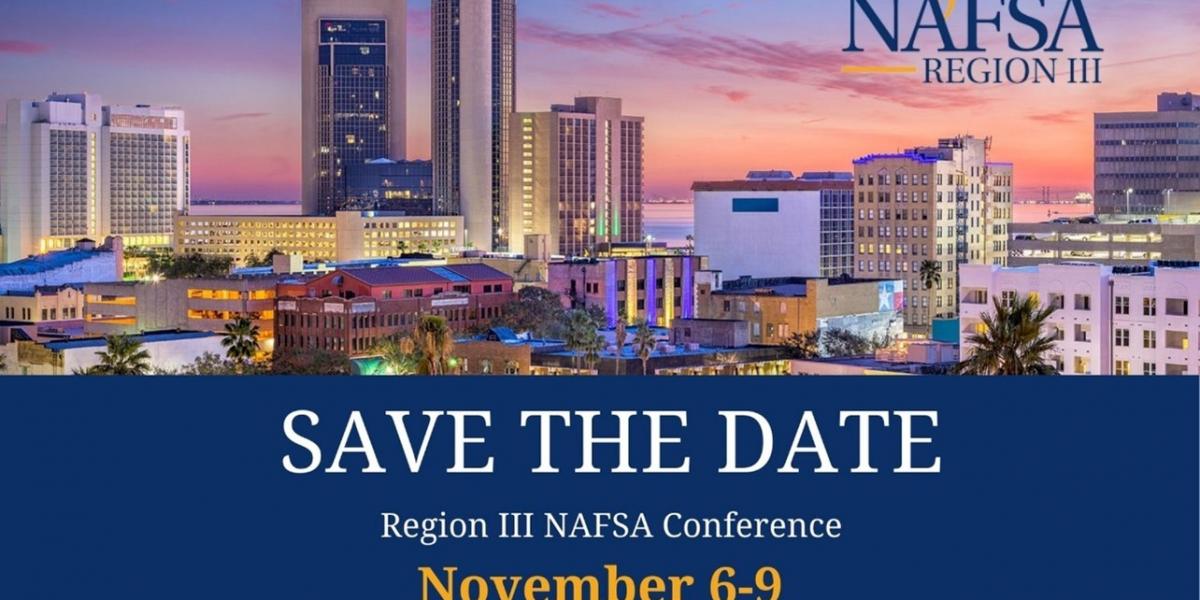 Important Dates
Registration opens: TBD
Registration deadline: TBD
NAFSA workshops: Sunday, November 6
Region III conference: Sunday, November 6 at 5 PM – Wednesday, November 9 at 11:30 AM
Details
We look forward to seeing you November 6 – 9, 2022 for the Region III Conference in Corpus Christi, Texas!  Please check back for additional details in late March.
If you are interested in volunteering to help with the conference, please contact Conference Planner Katy Lane
If you are interested in sponsoring or exhibiting, please contact Development Chair Paul Hopkinson for additional information.
NAFSA Region III- 2022 Exhibitor Flyer
Region III Tentative Schedule
We look forward to seeing you on Sunday November 6th through and Wednesday November 9th for the Region III conference.  Please view the schedule below for a list of Region III sessions and events. All events listed on the schedule are included in the price of registration.
Please note: All information listed below is subject to change.
Day 1: Sunday, November 6, 2022, 7:00 am CDT – 7:00 pm CDT  
7:00 am – 5:00 pm                  Registration
8:00 am – 4:30 pm                  Workshops
8:00 am – 7:00 pm                  Exhibitor Set-up
5:00 pm – 7:00 pm                  Opening Reception
Day 2: Monday, November 7, 2022, 7:00 am CDT – 7:00 pm CDT
7:00 am – 5:00 pm                    Registration
8:00 am – 9:15 am                  Newcomer Breakfast
9:00 am – 4:00 pm                  Exhibit Hall
9:30 am – 10:30 am                Session Block 1
10:30am – 11:00am                Exhibitor Spotlight/Coffee Break
11:00am – 12:00pm                Session Block 2
12:15 pm – 2:00 pm                Plenary Lunch
2:15 pm – 3:15 pm                  Session Block 3
3:15 pm – 4:15 pm                  Exhibitor Spotlight/Coffee Break
4:15 pm – 5:15 pm                  Session Block 4
3:15 pm – 5:15 pm                  Local engagement options
6:30pm – 9:00pm                    Restaurant Hops
Day 3: Tuesday, November 8, 2022, 8:00 am CDT – 11:30 am CDT  
7:00 am – 5:00 pm                  Registration
7:30 am – 9:15 am                  Breakfast and State Meetings
9:00am – 4:00 pm                   Exhibit Hall
9:30 am – 10:30 am                Session Block 5
10:30am – 11:00 am               Exhibitor Spotlight/Coffee Break
11:00 am – 12:00 pm              Session Block 6
12:00 pm – 1:30 pm                Region III Business Lunch
1:45 pm – 2:45 pm                  Session Block 7
2:45 pm – 3:45 pm                  Exhibitor Spotlight/Coffee Break
4:00 pm – 5:00 pm                  Session Block 8
6:30 pm – 8:30 pm                  Closing Ceremony  
Day 4: Wednesday, November 9, 2022, 7:00 am CDT – 7:00 pm CDT
8:00 am – 9:00 am                  Coffee and Breakfast Bar
9:15 am – 10:15 am                Interest group meetings
10:30 am – 11:30 am              Interest group meetings