Region XII Community College Updates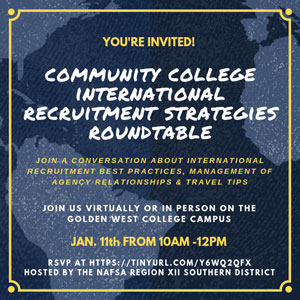 You are invited to the Community College International Recruitment Strategies Roundtable on January 11, 2019 from 10am-12pm! This roundtable will provide an opportunity to learn from each other and discuss international recruitment best practices, management of agency relationships, and travel tips with other community college professionals.
If you are interested in attending, you can either join us at Golden West College in Huntington Beach for an in-person conversation and optional lunch or attend virtually. Please RSVP here to let us know that you will be attending. If you have any questions, please contact the Community College Representative, Alison Carlock.