Advocate, Connect, Celebrate!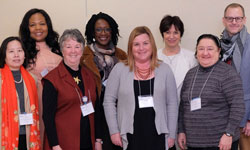 The 2020 Washington Leadership Meeting (WLM) will take place from Thursday, January 23 - Sunday, January 26, 2020 to give NAFSA leaders the opportunity to collaborate on team projects, receive training, and review pan-NAFSA initiatives. This meeting is by invitation only. Registration and travel details will be available in November 2019.
Please use the email form to submit any questions. If you are experiencing technical challenges with registration, please completely logout from your NAFSA passport and clear your browser cache before your next attempt.
The 2021 Washington Leadership Meeting will take place from Thursday, January 21 - Sunday, January 24, 2021.
Learn more about Washington, DC.
Contact Us
Please contact us if you have any questions.