NAFSA 2022 Registration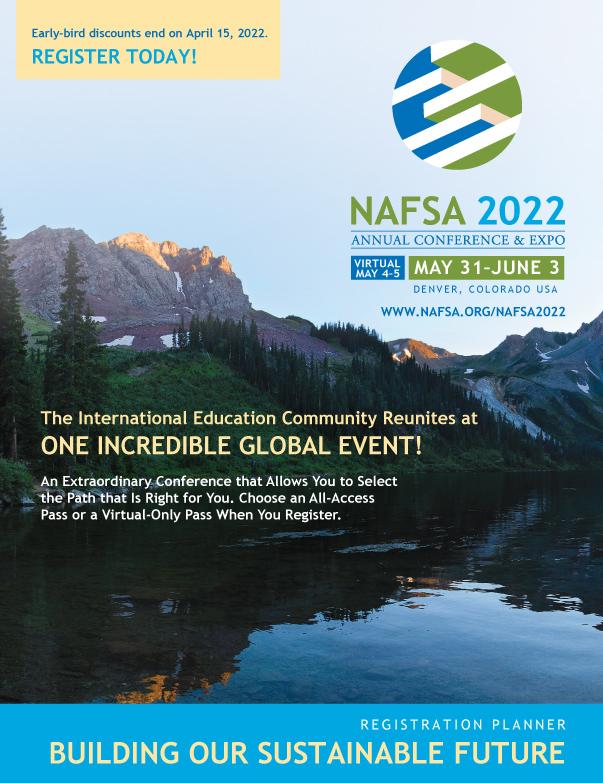 View and Share The NAFSA 2022 Registration Planner
Join us at the NAFSA 2022 Annual Conference & Expo, the international education event of the year! The event is made up of two parts: a virtual program from May 4-5, 2022 (now available on-demand), and an in-person program from May 31-June 3, 2022. NAFSA offers two new registration options—an All-Access Pass or a Virtual-Only Pass.
Begin your NAFSA annual conference with virtual kickoff content recorded on May 4–5, for both all-access and virtual-only attendees. View this programming on-demand.
Complete your NAFSA 2022 Annual Conference & Expo experience, May 31–June 3, in Denver with exclusive entry to all sessions, events, and the International Education Expo as an all-access attendee. A limited livestream from Denver will also be available for virtual-only attendees.
At the NAFSA 2022 Annual Conference & Expo, you will have an unmatched opportunity to learn from experts; collaborate with colleagues; and, discover solutions you need to innovate, adapt, and prepare for the year ahead. The event provides participants with the most diverse and comprehensive professional learning, global networking, and interactive engagement designed to meet your unique practice needs.
On-Site Registration Hours
| | |
| --- | --- |
| Sunday, May 29 | 7:30 a.m.–5:00 p.m. |
| Monday, May 30 | 7:30 a.m.–6:00 p.m. |
| Tuesday, May 31 | 7:30 a.m.–6:00 p.m. |
| Wednesday, June 1 | 7:30 a.m.–5:00 p.m. |
| Thursday, June 2 | 8:00 a.m.–5:00 p.m. |
| Friday, June 3 | 8:00 a.m.–12:00 p.m. |
On-Site Payment Information
As we welcome our participants to our in-person event in Denver, please be advised NAFSA bookstore and registration will be cashless this year.  Payment can be made with VISA, MasterCard, American Express, Discovery, institutional and personal checks.
Safety Information
NAFSA will prioritize the health and safety of all attendees when planning the 2022 Annual Conference & Expo. We will work with the Denver Convention Center, and local and federal authorities to ensure all health and safety regulations are followed. We will post updates to mandates and precautions regularly.
Social Media Badges
Share your enthusiasm and support for the NAFSA 2022 Annual Conference & Expo with these social media badges.